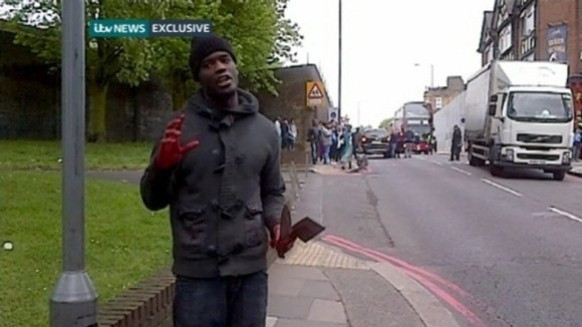 Britain's TV watchdog is to investigate the coverage of the murder of Lee Rigby on the back of complaints about the graphic nature of the footage used during the initial news coverage.
The footage, captured on a bystander's mobile phone, was alleged to show one suspect with bloodied hands holding a meat cleaver and shouting into the camera yards from the spot where Rigby was killed.
The video was broadcast long before the 9pm watershed. Ofcom has received about 700 complaints - more than half of them directed at ITV News, the first broadcaster to air the footage, at 6.30pm oin the day of the killing.
Oftcom has opened investigations into BBC News, ITV News, Channel 4 News and Sky News to determine whether or not the footage was appropriately scheduled for children, and whether it meets the "generally accepted standards" laid down in the regulator's code.
Under these, Ofcom stipulates: "Broadcasters must ensure that material which may cause offence is justified by the context." This includes the time of the broadcast, the complexion of the audience and the potential effect of the material.
Multi-faith service
Two men, 28-year-old Michael Adebolajo and Michael Adebowale, 22, have been charged with the murder of Rigby on 22 May.
The soldier, who was returning from duty to Woolwich Barracks, was first hit by a car, then attacked with knives. He left a wife, Rebecca, and a young son.
A multi-faith service has been held near the barracks, with representatives of all major religious groups attending.
Event organiser Wilson Chowdhry, president of the British Pakistani Christian Association (BPCA), said: "When news broke of the barbaric murder of an off-duty soldier in broad daylight on a busy London street I shuddered.
"Although, sad to say, the BPCA has become accustomed to similar stories of cowardly assassinations in Pakistan I never for one moment ever expected to hear of such atrocities happening so close to home."