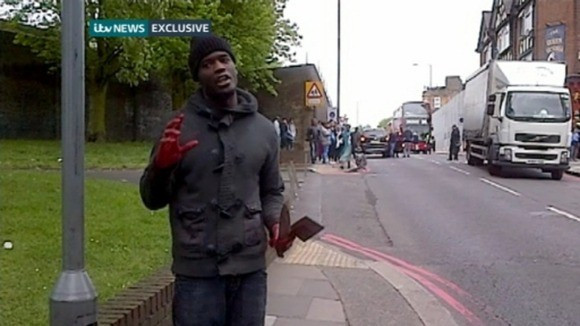 ITV has broadcast images of a man with bloody hands holding a knife and what appears to be a meat cleaver at the scene of a suspected terrorist attack in Woolwich, south London.
The TV channel said it had obtained footage of the man speaking to the camera and making a number of political statements.
"We swear by almighty Allah we will never stop fighting you," he said in a London accent, then called for the UK government to be removed. "They don't care about you," he said.
"I apologise that women had to witness this but in our land women have to see the same," he continued.
It had recently been suggested that the two attackers had filmed one another. However, it is not known if the man pictured was one of the attackers or if he was just at the scene of the murder.
The victim is believed to be a soldier. He was wearing a Help for Heroes T-shirt and may have served at the nearby Royal Artillery Barracks.
One eyewitness described how the men got out of their car and started to cut him "like a piece of meat".
David Cameron confirmed a Cobra meeting had been called, chaired by home secretary Theresa May.
This suggests the Woolwich incident, on John Wilson Street, was a terrorist attack.
The BBC's Nick Robinson said the attack had been filmed and that the men had cried "Allah Akhbar [God is great]".
READ:
Woolwich Machete Attack: Chilling Echoes of 2007 Islamist Plot to Behead British Soldier
Islamic Terror Link to Woolwich John Wilson Street 'Beheading' of Soldier
Woolwich John Wilson Street 'Beheading': Shock Eyewitness Accounts
Woolwich John Wilson Street 'Beheading' Photos: Men Attacked 'Soldier' with Machete
Woolwich John Wilson Street 'Beheading': One Confirmed Dead, Two More in Critical Condition