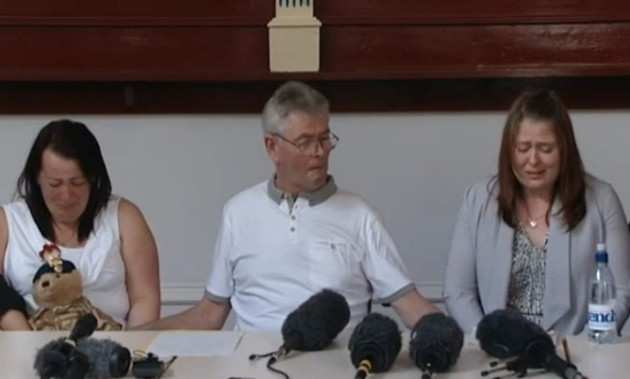 Lee Rigby's devastated family paid emotional tribute to the soldier murdered in Woolwich on Wednesday, saying "our hearts have been ripped apart".
Rigby's wife, Rebecca, the mother of his two-year-old son Jack, revealed that her husband had been due to visit his family at home in Manchester on leave this weekend.
Lee Rigby, 25, was murdered by two men in Woolwich, south London on Wednesday.
Choking back tears, Rebecca said: "You don't expect it to happen when he's in the UK. You think they're safe. He'd walked up that road so many times before."
Stepfather Ian Rigby said the family followed the story of the attack on TV and only found out that the victim was Lee during the night.
"Words can't describe how sad we are and how missed you will be. Our hearts have been ripped apart and everyone is struggling to cope with this tragedy," he said.
"We would like to say goodnight Lee. Rest in peace to our fallen soldier. "
He described his stepson as a family man who had been full of pride and joy at being a father.
"We are so proud of Lee," he said. "What can we say about Lee, our hero? We are so so proud of Lee. When Lee was born the family adored him, he was a precious gift given to us.
"Lee's dream growing up was always to join the army which he succeeded in doing. He was dedicated and loved his job.
"Lee adored and cared a lot for his family. He was very much a family man, looking out for his wife, young son Jack, younger sisters, whom in turn they looked up to him. He always had banter with them but would never ever let any harm come to them.
Life was for living
"Lee adored his family and was a family man - he was over the moon being a dad and an uncle and adored all his family.
"He had many friends. He believed life was for living. He will be sorely missed by all who knew him."
Succumbing to tears, Rebecca said: "His proudest moments were serving in London on the ceremonial parades as a drummer."
Ian then read out a poem written by a relation in tribute to the 25-year-old soldier.
"You fought bravely and died. You leave your family so full of pride. Sleep well young solder your job is done.
"Our chain is broken and nothing seems the same. But as God calls us one by one, our chain will join again."
Rebecca revealed that her husband completed tours of duty in Cyprus, Germany and Jordan before his tragic death.
The suspected killers are being treated for gunshot injuries in hospital where they are under armed guard.