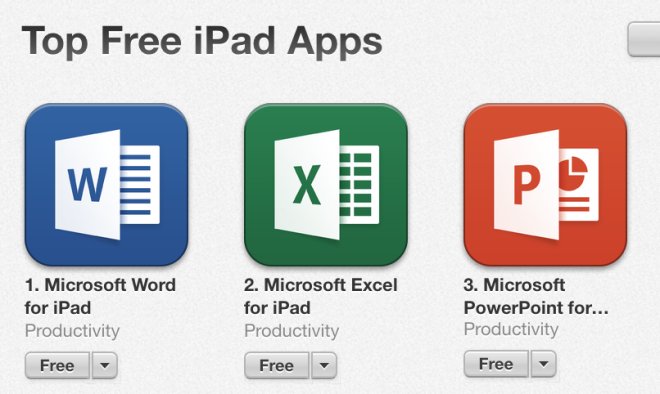 Within hours of Microsoft launching its suite of Office apps specifically tailored for the iPad, Word, Excel and PowerPoint are the three most downloaded free iPad apps on Apple's App Store.
It is unclear how many times each has been downloaded so far, but Word is the most popular, followed by Excel and PowerPoint.
While the apps are available for free from the App Store, this only gives you access to very basic features, such as viewing documents and carrying out presentations.
To unlock the full feature set of the apps you will need an Office 365 subscription. This will give you the ability to create, edit and collaborate on documents right on your iPad.
Microsoft has even added an in-app purchase option within the apps to allow you directly sign up for an Office 365 subscription, which costs £7.99-a-month or £79 for a year.
Benefiting Apple's bottom line
While this will obviously benefit Microsoft's bottom line it will also be a boon for Apple if a lot of people use this method to sign up for an Office 365 subscription.
Apple's App Store terms and conditions mean that it will earn 30% of any in-app purchases, meaning it pockets around £24 for every Office 365 subscription.
This is likely to be something that will stick in the craw of a lot of ardent Microsoft fans, but new CEO Satya Nadella seems to want to herald a new era of détente between the two companies by thanking Apple's CEO Tim Cook on Twitter for his support: "Thanks @tim_cook, excited to bring the magic of @Office to iPad customers."
Cook had previously warmly welcomed the new apps to his App Store, saying: "Welcome to the #iPad and @AppStore! @satyanadella and Office for iPad"
Apple however is keeping its options open. While it did welcome Office for iPad to the App Store, it also took the chance to remind customers that it has many more productivity apps available already.
"We're excited that Office is coming to iPad — now part of the more than 500,000 apps designed specifically for iPad. iPad has defined a new category of mobile computing and productivity and transformed the way the world works," Apple said in a statement. "Office for iPad joins an incredible lineup of productivity apps like iWork, Evernote and Paper by FiftyThree, that users can choose from to inspire them to do more with this powerful device."