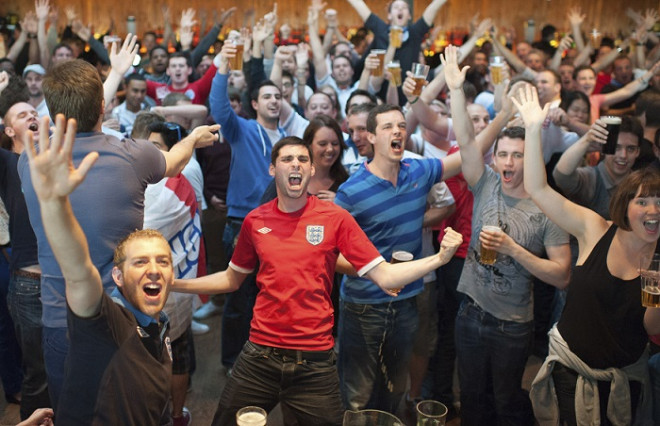 Pubs will be allowed to stay open later in order to show England matches at this summer's World Cup in Brazil, the Home Office confirmed.
Pubs and bars will be allowed to stay open until 01:00am for England's first game against Italy on 14 June, which kicks off at 11pm GMT.
England's remaining two group games against Uruguay and Costa Rica kick off at 8pm and 5pm respectively. However, if the team make it through the knock-out stages, then the matches will kick off at 9pm, meaning the new relaxation of the licensing laws may come into play again if they run into extra time.
Home Secretary Theresa May announced the decision following a two-week consultation. The Home Office originally rejected the request from the British Beer and Pub Association to allow pubs to stay open longer, saying it did not consider the World Cup a matter of national importance.
Prime Minister David Cameron chipped in on the debate, ordering a rethink on the decision in February.
A Home Office spokesperson said: "The government believes that England playing in the World Cup is an occasion of exceptional national significance.
"Many people will wish to enjoy watching the matches in pubs and bars and experience the atmosphere of the occasion with fellow football fans, as demonstrated by the enthusiasm of the majority of those who responded to the consultation.
"The government has listened to the views received in response to the consultation and in discussion with partners has decided to proceed with the proposal to relax licensing hours nationally for England's World Cup matches."
Brigid Simmonds, chief executive of the British Beer & Pub Association, said: "It's really great news, which will put pubs at the heart of a great national event. I am particularly pleased that the government has really listened, and made sure that common sense prevailed, granting the full four hours after kick off for England games, as we had asked."