New Zealand aerospace startup Rocket Lab has created the world's first ever battery-powered rocket that not only replaces gas propulsion with electricity, but is also almost completely constructed from 3D printed parts.
The Electron rocket is a small 20m-long and 1m diameter orbital vehicle made entirely from carbon fiber composite. It contains the electric Rutherford engine – the first oxygen/hydrocarbon engine to use 3D printing for all primary components including its engine chamber, injector, pumps and main propellant valves.
In fact, the technique used by Rocket Lab has made it possible to create complex, lightweight structures in a much shorter amount of time than is currently possible, turning months of production into just days.
But apart from being a breakthrough in 3D printing technology, the Electron is also unique in that it is the first battery-powered rocket, which will cost only about $4.9m (£3.3m), as opposed to billions of dollars, to launch into space and will be able to launch payloads of up to 220 pounds into space.
The technology used drastically reduces the cost of launching a satellite into space, which means even non-aerospace companies can launch satellite-related businesses without needing to have the huge resources of a company like Elon Musk's SpaceX.
"Although the privatisation of the space industry has promised an easier path to commercial launches, space has remained an incredibly difficult and expensive place to reach," said Rocket Lab CEO Peter Beck.
"Electron makes it possible for us to continue to execute on our vision to enable easier access to space. As more small satellite companies are able to quickly reach orbit, we will see immense advancements in communication and imaging technologies, which has the potential to drastically change our world – from improved traffic reporting to crop planning to even mitigating the life-threatening damages of natural disasters."
The Rutherford engine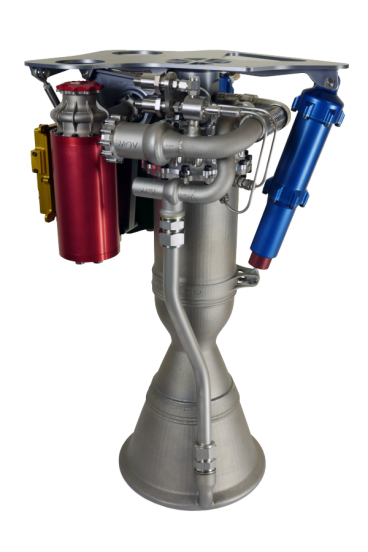 The Rutherford engine, which exerts a gravitation force of 4,600lbf, is also unique in that unlike conventional space rockets that are powered by expensive and complex gas generators, it utilises an electric propulsion cycle using high-performance brushless DC electric motors and lithium polymer batteries to drive its turbopumps.
Using turbopumps eliminates the spaghetti tubes and valves currently being used by gas propulsion , which add a lot of weight to spacecraft and also frequently lead to engine failure.
"It's really only the advancement in battery technology that has enabled us to go to electric turbopumps," Beck told Popular Science.
"Even three or four years ago, the technology wouldn't have been sufficient. But there have been enormous advances in a short time period, and now the electric motor is about 95 percent efficient, versus the 60 percent efficiency of the gas motor."
Electron has a lift-off mass of 10,500kg and it is able to deliver payloads of up to 100kg to a 500kg sun-synchronous orbit, which is where the growing constellation-satellite market is located.
The rocket comes with the capability for payload integration to be disconnected from the main booster assembly, meaning that sealed integrated payloads can be transported back to Earth in a matter of hours.
The rise of 3D printing in aerospace
In November, Ed Lowney, vice president of manufacturing for airplane accessories firm Custom Control Concepts, told IBTimes UK that 3D printing is now being seen as a technology that can revolutionise the aerospace industry as production is cheaper, faster and the plastic material used is very light.
Universities are also looking into developing 3D printed technologies to help speed up aircraft manufacturing, but this is still in its early stages.
In February, engineers at Monash University managed to reverse engineer the jet engine from a Dassault Falcon 20 and 3D print it out in metal, but it will still take a while to test and ensure the parts are as safe to use as traditionally-produced aircraft components.
Rocket Lab has been working on making space rocket technology better and more affordable since it was founded in 2008 in Los Angeles, California. A privately funded company, its investors include Lockheed Martin, Khosla Ventures, Bessemer Venture Partners and K1W1.