World leaders hailed the vision of late Israeli prime minister and president Shimon Peres as he was laid to rest in Jerusalem.
Current Israeli Prime Minister Benjamin Netanyahu described him as "a great man of the world".
Foreign leaders including Palestinian leader Mahmoud Abbas, US President Barack Obama and former president Bill Clinton are attending the state funeral for Peres, who died on 28 September aged 93.
Leading eulogies in Jerusalem's Mount Herzl Cemetery , Netanyahu said: "Shimon lived a life of purpose.
"He soared to incredible heights. He swept so many with his vision and his hope. He was a great man of Israel. He was a great man of the world."
Obama said Peres "Showed us that justice and hope are at the heart of the Zionist idea."
"Shimon once said the message of the Jewish people to mankind is that faith and vision will triumph over all adversity," Obama said, adding that "It is a full life, driven by the simple pleasures of family and by big dreams. This is Shimon Peres' life. This is the State of Israel."
Clinton helped negotiate the Oslo peace accords between Israel and Palestine in the 1990s that led to Peres being jointly awarded the Nobel Peace Prize in 1994.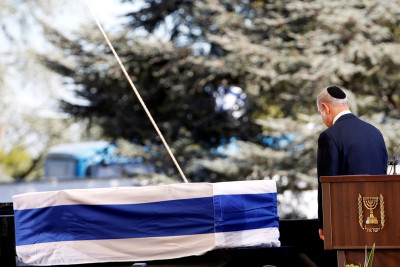 Peres was Israel's "biggest dreamer", said Clinton.
"He imagined all the things the rest of us could do. He started life as Israel's brightest student, became its best teacher and ended up its biggest dreamer.''
Israel deployed 8,000 officers for the security operation as thousands attended the funeral.
Among the UK delegation were Foreign Secretary Boris Johnson, Prince Charles, and former prime minister Tony Blair.
Abbas led a delegation of Palestinian dignitaries visiting Israel for the first time since 2010, despite criticism in Palestine.
Abbas was part of the delegation that signed the 1993 Oslo peace accords, that led to Peres being awarded the Peace Prize alongside late Palestinian leader Yasser Arafat and former Israeli prime minister Yitzhak Rabin, who was assassinated by an Israeli ultra-nationalist in 1995.
Peres died on Wednesday aged 93 after suffering a stroke two weeks previously.