World Mental Health Day: Are our new style princes becoming the voice of the voiceless?
It is a good time to take stock of the enormous progress we have made with attitudes to mental illness.
Another day, another mental health initiative from the young Royals, with Prince Harry teaming up with the Defence Secretary to highlight the problems facing veterans, and the need to do more to help them.
Today (10 October), World Mental Health Day, is a good time to take stock both of the enormous progress we have made with regards to attitudes to mental illness, but also of the huge strides we still need to make.
The campaign for greater understanding and awareness is doubtless helped by the high profile support that Prince Harry and his elder brother and his wife can bring.
It's great too that they ask the sometimes politically unwelcome questions: should some drugs be legalised, William asked last month? Are we doing enough for the most vulnerable? The second question is more easily answered than the first. The answer is 'No', hence the need for the many continued campaigns.
Was William's question on drugs, and the persistent campaigning on mental health, evidence of the young princes taking an independent and new path, speaking out about what needs to be said while politicians are increasingly staying (what they wittily refer to as) 'on message'. Even Kenneth Clarke has modified his criticism of the government's Brexit efforts to a whisper.
Prince Charles does speak out about the personal bees in his royal bonnet from time to time. Princess Diana did become a great crusader for the vulnerable and dispossessed, though mainly after she had 'freed' herself from the constraints of a royal marriage.
But the young Royals seem to me to be campaigning with a real sense of energy and purpose, whether Harry's crusade for those injured in combat, who all too often are hidden away from public view or political debate, or William's moving testimony to grief when an adolescent, or Kate with her focus on young women.
That their efforts personally and through the 'Heads Together' campaign are finally helping to raise the profile of mental health is great. But we should beware the seductive and accompanying sounds from government when so far no actual new money has been released - in fact mental health budgets remain first in line for cuts amid all the pressures on the NHS and mental health charities.
As the founder of Kidstime, which helps the all too often overlooked children of mentally ill parents, I have seen these pressures at first hand.
Being a child who suffers the impact of a parent's mental illness can be lonely and frightening. Actually nearly all parents with a mental illness know that they cannot give their child all of the support and attention they need.
Many worry about it even though they may not be able to admit it. Many try very hard to compensate, but the child's loneliness remains. People who are depressed often fear Christmas because it underlines their loneliness. Seeing the sun shine on mental health can have the same effect on those left behind.
Many children have said to me: 'I heard they were going to help people with mental health problems, but no one's talked to me about my Dad.'
What is most painful and frustrating is that it can be really easy to help those children who suffer and who often struggle to try to help with their parent's illness. It isn't even about money - or at least not much - but a willingness to see these children and to acknowledge what they are going through.
It isn't an attack on the parents either. Most parents are enormously grateful if they can be supported as they are only too aware - when they can face it - of what their child is going through.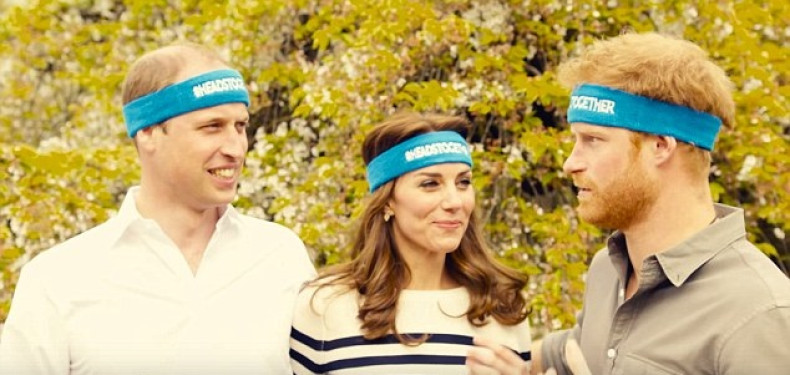 When kids, from quite young up to adolescents, are asked what might help – or if they are lucky what has helped already – it's being able to know the name of the illness, to talk and think through what it is like to live with it, and how to cope with it.
It doesn't seem difficult, but it is shocking how rarely it happens. Living in ignorance about it then breeds loneliness which can be compounded by bullying and also often misapprehension by teachers.
These children deserve to have their own minds, and to know that they may have to put themselves first sometimes. Not surprisingly they won't always welcome what may be called support. They may be (sometimes rightly) suspicious that it means the family will break up and that they will be moved to foster care, or that they will also be treated as a 'problem'.
These children are courageous and need to be recognised, talked with respectfully, given knowledge, and an easy port of call.
So here with a plea to our intrepid princes to help provide a voice for this unheard group, so as to help us to open up this topic till these children can come out of the shadows.
The Kidstime Foundation (Kidstime Foundation.org)
We set up the Kidstime Foundation to highlight the plight of the 2.7 million children who have a parent or parents with a mental illness; to develop effective interventions and resources to help them and their families cope with the illness, to help the parents be the best parents they can.
We developed schools video and online packages to help school staff to understand the needs of these children, to widen the awareness about these children by their peers, and to help the affected children navigate the storms.
While we have heard from schools that these interventions are powerful, we have struggled for the last 10 years to be heard, let alone funded. Although the needs of young carers in general are at least acknowledged, the impact on this particular group continues to be kept in silence.
It would make a huge difference to these children if the charity had the resources they need to spread the work and allow these children to have the best start they can have. We would welcome your support if you think you can help us in any way, financially or other kinds of sponsorship. We owe it to the nation's children to give them a good start in life.
---
Alan Cooklin is a psychiatrist and head of Kidstime, the charity for the children of mentally ill parents.
---