Prince William and Prince Harry have revealed that they did not share their feelings with one another following the death of their mother, Princess Diana.
The brothers make the honest admission in a new video with Kate Middleton to promote the Heads Together campaign, the official charity of the London Marathon.
In the candid and unprecedented video Harry revealed that the pair would avoid talking about their mother's death as it was too painful.
"We've never really talked about losing a mum at such a young age," he explained. "I always thought, what's the point of bringing up something that's only going to make you sad? It ain't going to change it. It ain't going to bring her back."
Kate interjected to acknowledge the princes' "amazingly close" relationship and credited Diana for her nurturing influence in their formative years.
"Considering what you boys sadly went through, the trauma that you experienced I think it's incredible how strong [you are] and how you've been able to cope really," she said in the video.
"I put that down to your really early years, your childhood experience."
Their shared experience of loss is part of the reason they have such a strong bond, she said.
"Most of the time," joked William but added: "We've probably been brought closer because of the circumstances."
William and Harry have been opening up about their loss as they prepare to mark the the 20th anniversary year of Diana's death. She and her boyfriend Dodi Fayed were killed in a car crash in Paris on 31 August 1997. Her death led to an international outpouring of grief with more than two billion people watching the funeral.
Last Sunday (16 April) Prince Harry started a public discussion about mental health when in an interview with the Telegraph he revealed that there had been a number of occasions when he was in his twenties when he was on the brink of having a breakdown as he struggled to express his grief at his mother's sudden death.
"When you speak to other people's families and little kids and stuff you think 'wow, I don't want them to go through the same things", he explained. "With a little bit of experience you want to do everything you can to help to stop them bottling it up."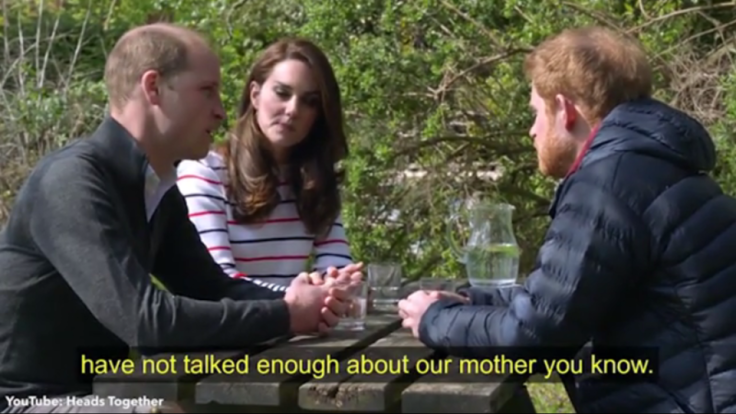 The video was shot in the gardens of Kensington Palace as the royals discussed a range of subjects including the stresses on children and new parents and their personal experiences of loss.
They also reflected on the success of the Heads Together campaign which they have collectively championed and which has sparked a public discussion about mental health awareness in a bid to remove the stigma.
A spokesman for Kensington Palace told Mail Online: "The Duke and Duchess of Cambridge and Prince Harry have been overwhelmed by the response to the Heads Together campaign. We are in the middle of a truly national conversation on mental health.
"They are incredibly grateful to everyone who has shared their stories in recent weeks. And having asked others to start conversations on mental health with their friends and families, they wanted to show that they are taking part as well.
"They hope the film shows how positive a conversation on mental health can be."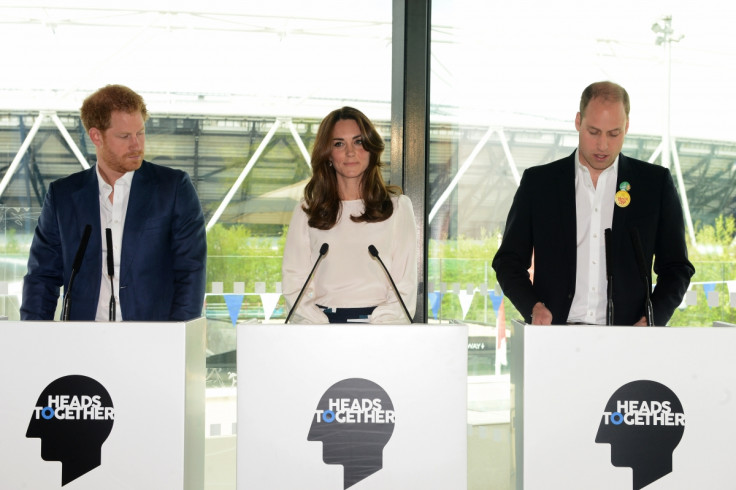 In response to the film, Paul Farmer, chief executive of Mind, said: "This is a defining moment for mental health. To have the Duke of Cambridge and Prince Harry, along with the Duchess of Cambridge, speak openly about how the loss of their mother affected their mental health shows how far we've come in changing public attitudes and perceptions to mental health that someone so high-profile can open up about something so difficult and personal.
"We know that this has had a huge impact on people who are still struggling in silence with their mental health – every time someone in the public eye speaks up we know that it encourages members of the public to do the same."
The royals embarked on a week-long campaign to promote the charity which included an informal reception for marathon runners who will be representing Heads Together hosted by Kate, a video call between Prince William and Lady Gaga who shared her experiences of mental health issues and a surprise guest appearance by William and Kate at Radio 1.