Solar-powered cars are speeding the length of Australia. The outback's blue skies and unrelenting sun make this the perfect environment for the 2015 Bridgestone World Solar Challenge. This year's race is the closest ever contested, with just 11 seconds currently separating the three top teams. At the end of day three, Team Twente from the Netherlands is in first place in their car Red One, followed by their compatriots and 2013 champions, Nuon Solar Team, in Nuna 8, and then the University of Michigan in Aurum.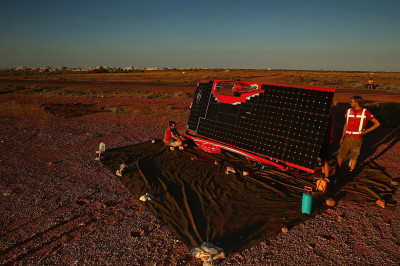 "The race hasn't been decided yet. As we saw on the map, the top teams are really close together and it's going to be really exciting. Anybody could win. We have two and a half days more to go, two to three days, so yeah, we are going for it," said Nuon Solar Team member, Maarten Frijling. Team Nuon had a scary moment before the start of the race, when they thought their car's delicate solar panels had been damaged by a member of the media. "There was a slight exciting moment because somebody bumped their tripod into our car so we were very afraid that the solar panel was damaged but luckily nothing happened," said team member Bianca Koppen.
The World Solar Challenge is the world's largest solar electric vehicle race. The biannual event first began in 1987 and is based on the notion that a 1,000-watt car would complete the trip from Darwin to Adelaide in 50 hours. Solar cars are permitted a nominal five kilowatt hours of stored energy, which is 10% of that theoretical figure. The remaining energy must come from the sun or be recovered from the kinetic energy of the vehicle. Forty-seven teams departed Darwin on Sunday 18 October in a gruelling 3,000km (1,864-mile) race from Darwin to the South Australian capital of Adelaide.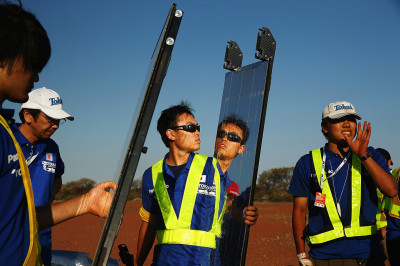 Three classes of vehicle, Challenger, Cruiser and Adventure, are taking on the Australian outback. The elite Challenger Class is conducted in a single stage from Darwin to Adelaide, with the Adventure Class enjoying a compulsory stop in Alice Springs. This year sees the second running of the Cruiser Class, which focuses on the ability to carry passengers and practical design, according to organisers. Team Eidenhoven are current world champions and favourites for the Cruiser Class with their vehicle, Stella Lux. "We look above and it's amazing, so you have the blue sky and the sun is shining and that's all we want, that's all we need," said team member Dom Selden.