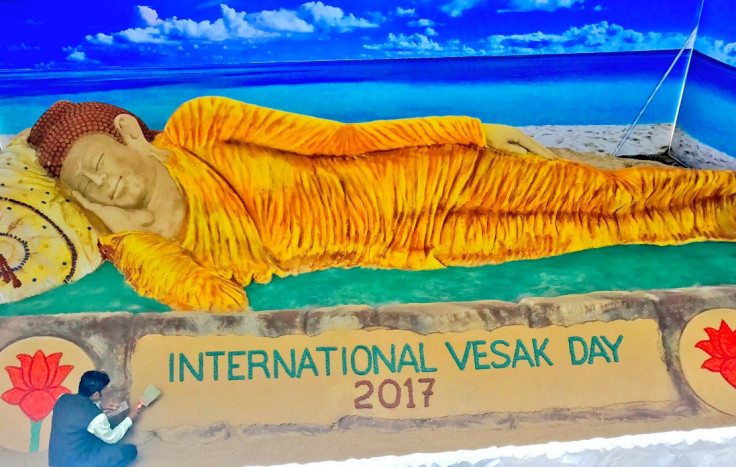 Indian sand artist Sudarsan Pattnaik has sculpted the longest sand Buddha statue in Colombo, Sri Lanka. The internationally-acclaimed artist created a 40 ft long statue of the father of Buddhism to commemorate the 14th International Vesak Day organised by the Government of Sri Lanka.
The artist shared the image from the Sri Lankan capital on his Twitter account. In the image, a reclining Buddha can be seen smiling in his sleep.
In an exclusive interview with IB Times UK, the internationally acclaimed artist says he is overwhelmed by the response to his artwork. "I am overwhelmed by the response by visitors. Buddha was the messenger of peace and I am glad, my art is delivering his message to the world." He said it took three days, four trucks of sand and five assistants for him to build the giant Buddha statue.
Vesak, the Day of the Full Moon in the month of Vesakha (usually falls in the months of May or June in western calendar), is not only the birth anniversary of Buddha, but also the day of his enlightenment and death.
Pattnaik, who was born in poverty in the eastern Indian state of Odisha, has used the long coastline on the Bay of Bengal as his canvas and art material to boost his talent, and is now an acclaimed sand artist worldwide. He has recently won the jury prize gold medal at the 10th Moscow Sand Art Championship 2017.
The Indian artist is known for his messages on the environment and world peace. "As an artist, I want my artworks to spread social messages," he told Hindustan Times. "If you love art, you find your way. There was a financial crunch during my childhood and I couldn't afford any training or art material. So, I started making art on sand. It was a free-of- cost canvas for me," he added.