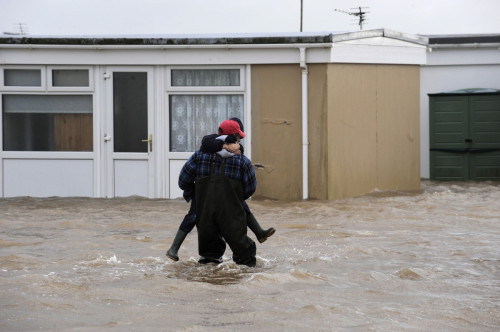 Flood warnings remain in place across the UK, as the country continues to be battered by its worst storms in 20 years.
There are currently 92 flood warnings in place from the Environment Agency across England and Wales, and a further 10 in place in Scotland. 244 areas are on lower level flood alert.
Most of the areas at risk are on the coast, as another Atlantic storm early on Sunday morning and unusually high tides brought towering waves crashing against the shore.
The earth is saturated and rivers swollen by a fortnight of floods and rainfall, and forecaster Matt Dobson of the MeteoGroup said this meant that there was "nowhere to go" for new showers.
"It's very unusual to have so many powerful storms come in one after the other in such a short space of time," he said. "We haven't seen anything like this since about 1991."
He predicted that strong winds and heavy rain would continue.
"The nasty weather of the last few days is going to continue across the UK, with the combination of high tides and a powerful storm putting coastal areas particularly at risk.
"Any rain will mean more flooding as the ground is saturated and swollen rivers are coming up against strong waves. The water simply has nowhere to go," he told the PA.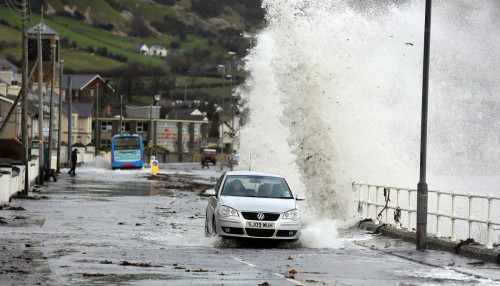 Wind and rain are expected to spread from the west after a cold start to Sunday.
Roads are closed because of flooding in areas including Ayrshire, Herefordshire, Somerset, West Sussex, Surrey, Berkshire and Wiltshire.
Train routes in England, Scotland and Wales have also been disrupted by flooding, National Rail said.
Inland rainfall could cause the Medway in Kent, the Thames in Oxford and Osney and the Severn Estuary in Gloucestershire to burst their banks.
Strong winds and heavy rain are predicted for another two days.
With more than 200 homes from Cornwall to Scotland flooded, Prime Minister David Cameron praised the "great work" of the emergency services and Environment Agency in responding to conditions.
Meanwhile, the search for Devon teenager Harry Martin resumed.
The 18-year old student from Membland, Newton Ferrers, was last seen on Thursday, when he left home to photograph the stormy seas.