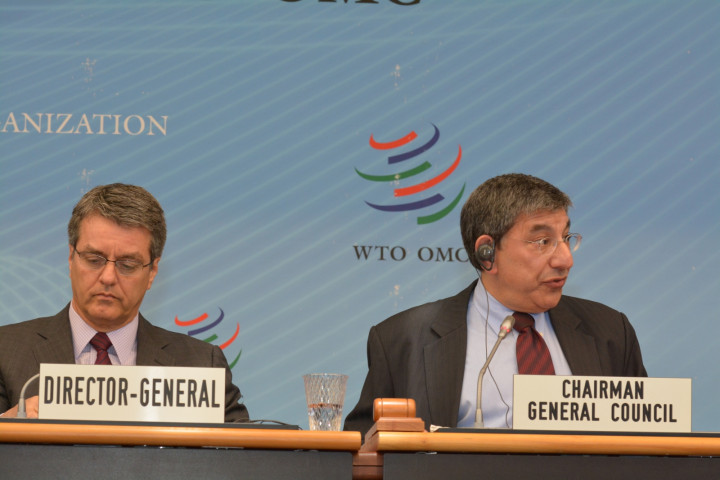 The World Trade Organization (WTO) has adopted landmark reforms, introducing new standards for customs check and border procedures and instilling faith among member nations.
The reforms have been adopted for the first time in the history of the 160-member WTO after months of deadlock. Proponents of the reforms expect they would add as much as $1tn (£634bn, €800bn) and 21 million jobs to the world economy.
The organisation proposed large-scale reforms after the 2001 Doha Round of trade talks, but most of the reforms eventually proved impossible to bring in amid stiff opposition from a number of member nations.
As a result, the international trade body had to cut back a number of proposals and go ahead with a smaller deal.
The deal was approved after a four-month standoff caused by India, which wanted to stock subsidised food in breach of the WTO's rules. Earlier, India and the US reached an agreement to avoid the deadlock.
"By agreeing these three decisions we have put ourselves back in the game. We have put our negotiating work back on track — that means all the Bali decisions: trade facilitation, public stockholding, the LDC issues, the decisions on agriculture, development, and all of the other elements," WTO director-general Roberto Azevêdo said at a news conference.
"This would not have happened without the commitment and political will of all 160 WTO members present here today. Members have shown the willingness to compromise — and a real commitment to the multilateral system."
Nevertheless, Azevêdo noted that the member countries should cooperate to avoid deadlocks in future so that the WTO "can operate in a more efficient way."
"We have lost precious time since July, and it goes without saying that we can't wait another two decades to deliver further multilateral outcomes," he said.
US Trade Representative Michael Froman said the agreement could substantially reduce transaction times and costs and would unlock new opportunities for both rich and poor countries, Reuters reported.
He said it was a "particularly important win for small and medium-sized businesses in all countries".