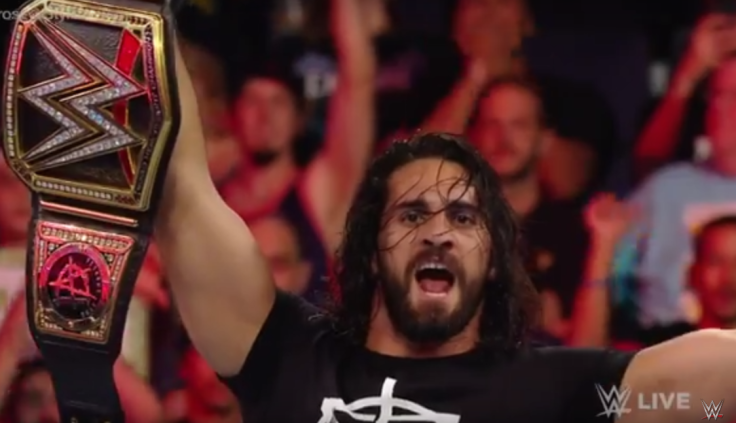 If Dean Ambrose is going to be successful as a headline attraction for WWE as their World Heavyweight champion, he can't take too many more of the thumpings he received from Seth Rollins as Raw ended last night (27 June).
Sure, the 'Lunatic Fringe' saw off the ascendant AJ Styles in a decisive win at the show's conclusion – but with nearly four full weeks of television before his first ever pay-per-view/special event title defence, Ambrose still needs to convince as a main eventer.
Without doubt, Ambrose the performer deserves each and every plaudit going, and he will hurl himself into anything needed of him. But Ambrose the champion needs to be positioned differently to other blue-eyes who have been pushed at the top of the card recently, most noticably Roman Reigns.
Indeed, in his last match before suspension for a breach of WWE's Wellness Policy at Money in the Bank, Reigns was left very much in Rollins' shade as both performers seemingly appealed to viewers' sympathies... even though Rollins continues to occupy a space usually reserved for villains.
Unquestionably, Rollins' in-ring excellence is a major driver of his popularity, despite his cowardice, envy and arrogance. Elsewhere on WWE programming, the blurred lines of his persona have seen him presented to viewers as an incredibly determined grafter pushing his body to recover as fast as possible following a devastating knee injury last Novembe. It is thus no surprise he has slipped so easily into focus as a leading light in the ring.
Rollins' only real drawback before his enforced absence was over-exposure – and while he is a more than gifted actor, being the anchor of so many sagging segments across so many episodes last year would have tested the range of Gary Oldman. Accounting for that, WWE's ability to make him appeal to everybody while occupying one of their top bad guy spots is a big tick in the promotional win column.
However, should Rollins get the better of Ambrose time after time ahead of their Battleground clash, Deano could rapidly become seen as the foil to Seth's brilliance, rather than a draw in his own right.
Although supported by legions of adoring fans, Ambrose's character is still a newbie to WWE's top tier. He is one of the most irresistibly charismatic stars in a roster of gripping in-ring workers. The latter must propel him to solidify his standing among WWE's leading lights – and cannot be dimmed by Rollins' spark.
There's absolutely nothing wrong with Rollins (possibly in conjunction with AJ Styles and The Club, with Cena allying with Ambrose) pressing any advantages he may enjoy over Ambrose in the build-up to their clash at Battleground – but the key character development must be Dean's.
We know he's a battler. We know he will still generate some of the biggest reactions on any show he appears. But now Ambrose needs to be pushed over the top – and he cannot be a sop to Seth's wider recovery. Rollins' road back needs to be a little bit more compelling than a stroll to the top of the mountain.
And even though his name must be kept in the conversation on Raw and SmackDown between now and July 24, it might be best for both Ambrose and Rollins to leave out the chatter about Roman Reigns for a while.
WWE may have worked Reigns' real-life ban into their top storyline, but association with his act is still toxic. The jeers for Reigns' apology tweet on the big screen were yet again a plot blackhole as, even in his absence, the boo boys' target sucked away reactions from every other player.
As the most effective PG rebel WWE has had in over a decade, Ambrose is at his best when erratic, not even-handed. This go around, Rollins needs to be taking the heavy end of Ambrose's punches.
WWE Raw results from the Amalie Arena in Tampa, Florida
Seth Rollins tore into suspended star Roman Reigns, demanding he be removed from the WWE World Heavyweight championship triple-threat match at Battleground. Current titleholder Dean

Ambrose, however, proved a tolerant voice, saying everyone makes mistakes – indeed, Dean joked he had once made the huge mistake of being friends with Seth. AJ Styles and John Cena both then lobbied to be part of the main event before Stephanie McMahon paired off the challenger hopefuls against an ex-Shield member each in singles bouts, with the promise of a Battleground slot if they won.

Sasha Banks and Paige beat WWE Women's champion Charlotte and Dana Brooke when Brooke submitted to the Banks Statement.

Titus O'Neil got a countout decision over Rusev, slipping back into the ring after tossing the US champ over the ringside barrier.

Seth Collins pinned John Cena following shenanigans with The Club and a pedigree in a strong addition to their career series of matches.

Enzo Amore and Big Cass overmatched two local performers before having a verbal spar with the Social Outcasts, who repeatedly made it clear they were "hard" and "ready for action". A big boot from Cass on Heath Slater and a backing down from Bo Dallas and Curtis Axel later, it was clarified the Outcasts are actually on the "sawft" side.

Becky Lynch's match with Summer Rae was abandoned after Lynch launched an attacked on rival Natalya, who was on commentary.

Chris Jericho ending up simultaneously eating a boot to the mush and a super kick, from Sami Zayn and Kevin Owens respectively, after his Highlight Reel guests declined the offer to 'drink him in'. Another match in Zayn and Owens' career-long series was set for Battleground, the second match confirmed for the July show bill.

Kane beat Intercontinental champ The Miz by count out after Maryse faked being injured and was helped backstage by her apparently concerned husband. Having bumped into 'the Devil's favourite insurance agent' backstage earlier in the show, it was the Demon Kane, rather than Corporate Kane, that Miz got to face.

Apollo Crews and Cesaro downed Sheamus and Alberto del Rio when Crews pinned Sheamus with a spinning sit-out powerbomb. Former League of Nations partners Del Rio and Sheamus failed to renew their old spark, with Alberto blasting his team-mate with an enzuigiri before walking out.

A costumed New Day mocked the Wyatt Family – but turned serious when Bray and lackeys Erick Rowan and Braun Strowman confronted them. Xavier Woods was uncharacteristically subdued as Wyatt vowed New Day would "fall".

Dean Ambrose pinned AJ Style with a Dirty Deeds DDT. Luke Gallows and Karl Anderson attempted to interfere, but were cut off by John Cena – and WWE's top man took advantage of the confusion to nail Styles with his finisher. However, it was Styles (and The Club) and Rollins who stood tall as Raw ended, with Rollins getting one over the champ with another Pedigree and Cena battered with a Magic Killer.