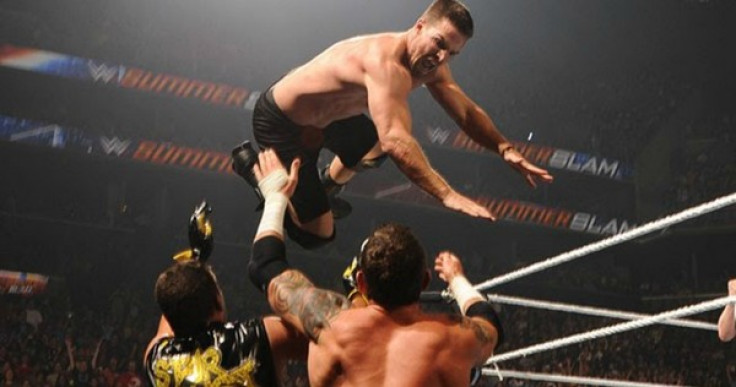 Arrow star Stephen Amell made quite an impression with his WWE debut last year at SummerSlam 2015, when he teamed with 29-year-old wrestler Neville and took on Stardust (and King Barrett) in a tag team match.
During a talk with Zap2it, Nevill spoke about Amell's competent wrestling debut and shared that he would not mind teaming up with the actor again for a show. "Honestly, I was shocked by the athleticism and the natural ability Stephen Amell had," Neville said. Currently on the injured list, recovering from a fractured ankle, Neville met with Zap2it during WWE's WrestleMania weekend to look back on his SummerSlam match with the actor.
"He was certainly an asset to the team, which going into a match with a non-wrestler you really expect to carry the load yourself," the wrestler said. "That wasn't the case. he definitely held his own side of the bargain and we beat two seasoned professional wrestlers."
As for whether he sees the two teaming together in the future, Neville stated: "Stephen was awesome and I certainly have very, very fond memories of that night. If in the future I ever get to do anything similar, affiliate myself with Stephen again, I'd love to do that."
Considering that Amell and Stardust are still at loggerheads, perhaps another SummerSlam rematch is on the cards. Meanwhile, Amell will be attending WrestleMania 32 on 3 April in Dallas, Texas.