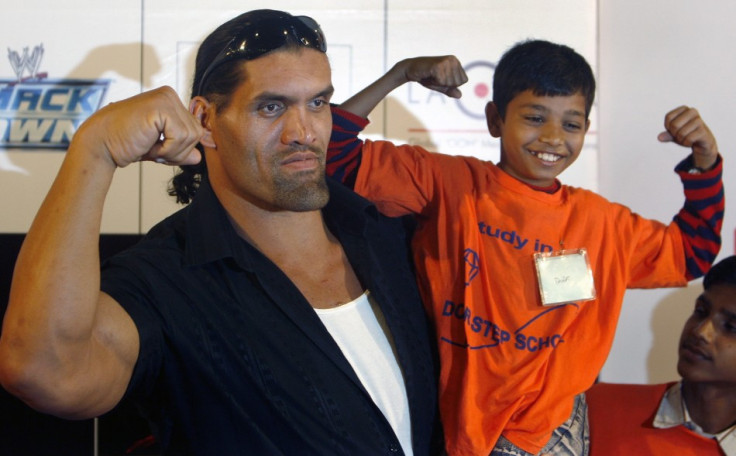 Former WWE superstar The Great Khali was severely injured and rushed to hospital during a recent exhibition match in India. According to Indiatimes, the match was not staged and Khali was allegedly attacked by a group of Canadian wrestlers.
Apparently, the incident stemmed from comments made by Khali at a launch event earlier in the week. Khali was quoted as saying:
"People keep making these empty threats and useless statements everyday. If they have the guts they should stop talking and come and meet me in the ring and then we will see who is who. Just because we are Indians they think they are superior and can say and do whatever they want. They have not only challenged me but also the spirit of India and I am not going to let them win. I, The Great Khali, today promise all of you'll that I will kick each one of their asses and not rest in peace till I do so. I today sign my own death warrant as a mark of this resolve. This to me now is far bigger than my own personal ego and is a matter of national pride."
Khali aka Dalip Singh Rana was taking part in an event in the northern Indian state of Uttarakhand to promote his wrestling competition Continental Wrestling Entertainment (CWE) when Canadian wrestlers Mike Knox and Brody Steel clobbered the WWE wrestler with chairs. Visibly shaken, Khali started to bleed and was immediately rushed to the ICU at a local hospital.
"He was hit by Mike Knox and Brody Steel in the head and the chest which led to him getting injured. The medical care in [the city of] Haldwani wasn't adequate so he was airlifted to Dehradun [capital city of the state of Uttarakhand] where he underwent further tests," said a source close to the event. (via The Indian Express)
His younger brother Surender Rana said the wrestler was now better and was only kept in the hospital for observation. "He is fine now. Yes he was hit in the head and chest during the event in Haldwani but luckily the situation is not bad."