Tyga fans will roar in delight at the prospect of the rap star starring in his own reality show. Famed for his romance with Kylie Jenner – and appearances on Keeping Up With the Kardashians – as much as his music, the 26-year-old is keen to launch his own TV series which will feature the likes of Scott Disick and Lamar Odom – former partners of Jenner's half-siblings, Kourtney and Khloe. Will it be called, Kase of the Kardashian Exes, we wonder...?
Perhaps worried that his fame will dwindle now his relationship with the youngest in the Kardashian clan ended in May 2016, Tyga is proposing pitches to networks about his small screen takeover plans.
A source told Life & Style: "He's trying to launch his own reality show called Tyga's Den. He's promising potential appearances by Scott Disick and Lamar Odom.
"Tyga's no dummy. He knows having other Kardashian exes like Scott and Lamar on his show will bring in viewers," and that has left the Kardashian family "absolutely furious."
With those sporadic KUWTK appearances at a dead stop, Tyga, born Micheal Ray Stevenson, isn't the only one trying to cash in on Kardashian fame. His pregnant ex-girlfriend, Blac Chyna, has just landed her own TV reality show with new fiancé Rob Kardashian – Kylie's older half-brother.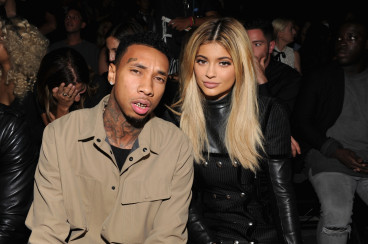 Aside from his KUWTK cameos, Tyga is no stranger to playing up for cameras. His MTV series, Kingin' with Tyga, is a six episode, half-hour series that follows the rapper and his crew as they attempt stunts and indulge in a lavish lifestyle.
The Rack City singer has a son with Chyna called King Cairo, and was engaged to the model in 2012 before splitting in 2014. He was reportedly dating Jenner since she was 16, with the legal age of consent in the state of California at 18. He is now allegedly dating lingerie model, Demi Rose, 21, after the pair were spotted in Cannes together on numerous occasions.