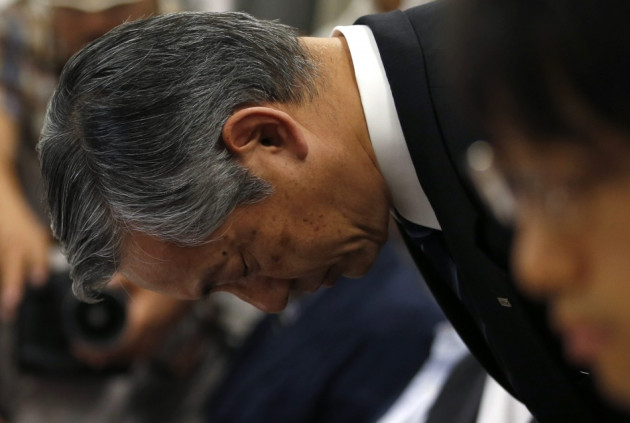 US regulators are taking part in Japan's move to crack down on the Yakuza, the country's organised-crime groups, by attacking them financially.
According to documents obtained under the Freedom of Information Act, the US Treasury Department so far has frozen about $55,000 (£34,000, €40,000) of yakuza holdings including two Japan-issued American Express cards, reported Bloomberg.
The Yakuza leaders who suffered the US credit-card freeze were Kiyoshi Takayama, second-in-command of the largest gang, Yamaguchi-gumi, and Kazuo Uchibori, identified as deputy head of the third-largest yakuza gang Inagawa-kai.
In 2011, the US enacted an executive order requiring financial institutions to freeze yakuza assets. That was in addition to the yakuza-exclusion ordinances enacted nationwide in 2011 making it illegal to do business with gang members, according to Bloomberg.
The authorities are "employing methods similar to those used to jail Al Capone," Bloomberg writes.
The notorious Chicago crime boss Capone was convicted in 1931 of tax evasion after authorities found that he never held a bank account in his own name.
"Pressure on the yakuza has definitely intensified," Hideaki Aihara, general manager of the National Center for the Elimination of Yakuza, told Bloomberg. "There's no doubt they're having trouble doing business."
As a result of the measures, the number of Yakuza members has come down 10% to 63,200 in 2012 after plunging 11% to 70,300 in 2011.
Financial Attack
The Japanese Bankers Association is reportedly taking serious steps to curb banks' illegal transactions with organised crime groups. The industry body would use police database of mob members to stop bank funding to them, according to a Reuters report.
The association has reportedly been in talks with police since 2010 to scrutinise lenders' client databases and blacklist criminals.
The measures come as Japanese banking giant Mizuho Financial Group admitted its top management knew of certain illegal transactions dating back to 2010 at the bank.
The bank was accused of extending more than 200m yen in loans via a partially bank-owned finance firm called Orient Corp to organised crime members.
Subsequently, Japan's Financial Services Agency (FSA) ordered the bank to improve its business practices. The banking regulator said it was a grave mistake that Mizuho did not take action even after it came to know about illegal loans in 2010 and asked the bank to submit an updated report on its failure.
The bank is required to submit a report to the FSA by 28 October detailing how it plans to improve operations.
The company had earlier set up committees including third parties to investigate the scandal.