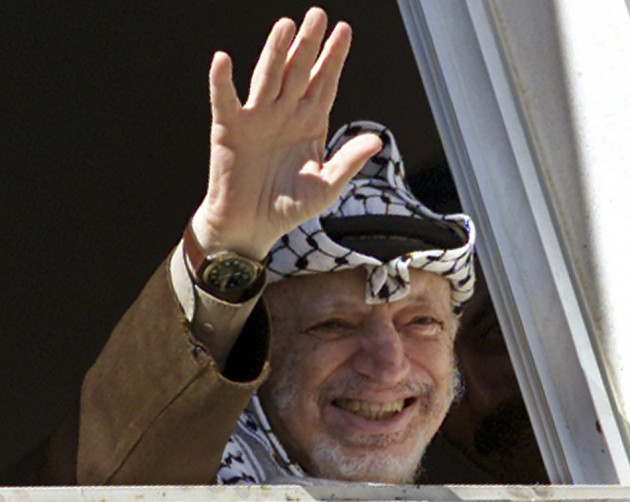 The remains of Yasser Arafat have been exhumed in an attempt to disocver whether the Palestinian leader was fatally poisoned.
The exhumation began early Tuesday, under the cover of huge blue sheets of tarpaulin that have been draped around Arafat's mausoleum in his former government compound in the West Bank city of Ramallah.
Experts from Switzerland, France and Russia have taken three separate samples of tissues from the remains of Arafat to examine whether he was killed by the radioactive polonium poisoning. The three teams include scientists, toxicologists and pathologists.
Many Palestinians believe that Arafat, who died at a French military hospital in 2004, was killed by Israeli agents. Though Tel Aviv denied any involvement in the death of Arafat, the mysterious circumstances surrounding his death lead to the belief of an Israeli conspiracy.
The inquiry has been initiated by the French authorities after radioactive polonium-210 was found on his clothing earlier this year. The personal belongings were submitted by his widow Suha.
"Samples will be taken according to a very strict protocol and these samples will be analysed. In order to do these analyses, to check, cross check and double cross check, it will take several months and I don't think we'll have anything tangible available before March or April next year," said Darcy Christen, spokesperson for the Lausanne University Hospital in Switzerland.
According to the current medical records, Arafat died of a stroke.
Considering the sensitivity over the process, journalists were not allowed to witness the exhumation, said the authorities.
"Because [of the] sanctity of the symbol and the sanctity of this event, [the exhumation] should not be permitted to be in front of the media," said the head of the committee which probe Arafat's death, Tawfik al-Tirawi.
A reburial ceremony will also be performed with full military honours quickly after the forensic process.