As thousands of children missed school in protest at the new controversial SATs tests, a Year 6 student has written an emotive letter to the education secretary about her upcoming exams.
Eleven-year-old Alice, who is due to take the new 'more rigorous' brand of SATs this summer, described Nicky Morgan's curriculum as 'shuddering' and told the minister the tests were making her reconsider her ambition to become a writer.
The spirited student wrote: "I write in all my spare time but after taking some of these SATs tests I am considering not doing any more writing. Children at the age of sixteen should not be put through such a hard time let alone 10 or 11 year-olds.
"So I need to ask you one question: did you mean to make children feel this way when considering your discombobulating choices? Next year children will be facing this shuddering new curriculum. There are many young children struggling to understand the difficult questions."
The new 2016 SATs for Years 2 and 6 have already caused debate among teachers and parents, many of whom feel the stringent tests are putting too much pressure on children and having a negative impact on their education.
A protest started by a group of parents against SATs for six and seven year olds expanded to include the new Year 6 SATs and has now been signed by more than 40,000 people.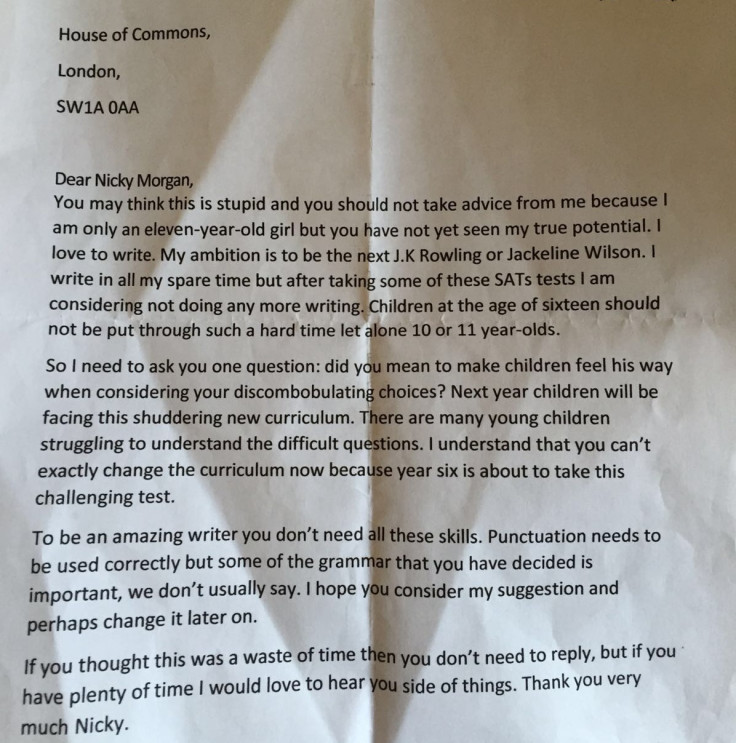 It read: "We want our kids to be kids again and enjoy learning for learning's sake, not for Ofsted results or league table figures. In May, children in Year 2 sit a whole week's worth of exams. These children are 6 or 7 years old!
"All year their curriculum has been centred around comprehension and arithmetic in order to pass these tests. Outdoor learning has decreased, childhood anxiety has increased, games have been replaced with grammar, playing with punctuation."
In addition to the extra exam preparation, the new tests have also been criticised for testing topics that are unlikely to be useful outside of the SATs.
Eleven-year-old Alice added: "To be an amazing writer you don't need all these skills. Punctuation needs to be used correctly but some of the grammar that you have decided is important, we don't usually say."
The polite letter went on to ask the secretary of state for education to "consider my suggestion and perhaps change it later on," adding "I would love to hear your side of things".