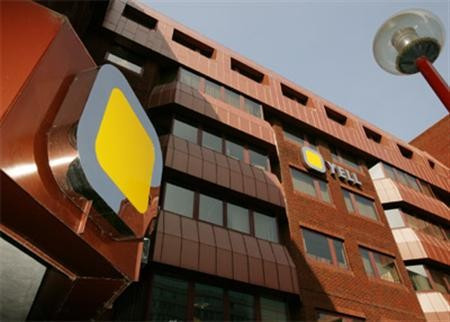 Yell, the directories group, have fallen on the FTSE 250 despite a swing of more than 1.19 billion as CEO and CFO both announced their intention to quit.
Shares in the group fell 19 pct ( -9.11p) by 9:00 am.
The Chairman Bob Wigley announced their intention to quit, as Yell faces increasing competition from rivals such as Google to migrate customers online:
"The Board and I will naturally be very sorry to see both Johns depart but we fully understand their reasons, and the timing and process of their departures ensure we can run a thorough and orderly succession process." he said, however no successors were announced as yet.
The publisher of Yellow Pages said that it had made £46.8 million or 3.4 pence per share, compared to loss of £1.14 billion or 124.1 pence per share last year.
Pre-tax profit was GBP 70.3 million, revenue £2.12 bilion - down 11 pct on last year.
"Given cyclical and structural challenges, now combined with management uncertainty, and compounded by very high debt we find Yell a difficult business to value." said Lorna Tilbian of Numis Securities.
"We suspended our recommendation last week and will resume coverage following the investor day on Thursday."
Numis' previous recommendation on Yell was Reduce, target price 34p.