Ambulances are being stolen by armed groups and health workers helping the wounded deliberately killed in war-torn Yemen, the International Committee for the Red Cross (ICRC) has said.
The ICRC said several Red Crescent volunteers were shot dead in recent days amid fighting between Shi'ite Houthi rebels and Saudi-backed forces loyal to ousted president Abed Rabbo Mansour Hadi.
"In Yemen, we are seeing Red Crescent volunteers being deliberately killed as they strive to save others," said Robert Mardini, ICRC head of operations in the Near and Middle East.
The aid organisation said that two brothers working for the Red Crescent Yemeni branch were shot dead in the southern port city of Aden.
Aden has witnessed the fierce fighting since a Saudi-led coalition of Arab states launched an air campaign against the Houthis late in March.
Another volunteer worker was killed in the Al-Dhale province, the ICRC said.
Both sides urged to abide by international rules
ICRC spokeswoman in Sanaa Marie Claire Feghali also reported that numerous ambulances were being seized by armed groups in Aden, making very hard for emergency service to provide support to the wounded.
"We have one hospital that has zero ambulances now, and we have reports of several groups using those ambulances," ICRC spokeswoman in the capital Sanaa, Marie Claire Feghali, told IBTimes UK.
Feghali stopped short of laying blame with a specific party to the conflict over the thefts and the killings of Red Crescent volunteers, urging all factions to abide to international regulations.
She warned that the situation in the country could otherwise become "catastrophic".
"All those who are wounded and sick are entitled to treatment, and medical personnel must be allowed to work without fear of becoming a target themselves," added Cedric Schweizer, who leads the ICRC team in Yemen.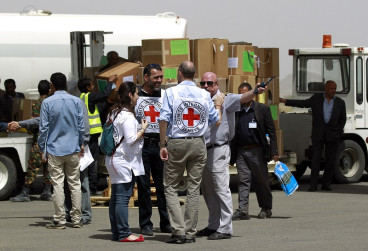 Meanwhile, the first of two ICRC aircrafts landed in Sanaa, with 16.4 tonnes of medicines, bandages, and other medical aid to treat up to 1,000 badly wounded people. Similarly, a Unicef plane carrying medical equipment, nutrients for malnourished children and water supplies for about 80,000 people has arrived in the capital, while another ICRC flight is expected for the coming days.
"These supplies will mean the difference between life and death for those wounded in this conflict," said Schweizer.
More than 600 civilians and combatants have been killed in fighting in Yemen in recent weeks, according to the World Health Organisation.