Yemen: US officials maintain intelligence relationship with Houthis in al-Qaeda battle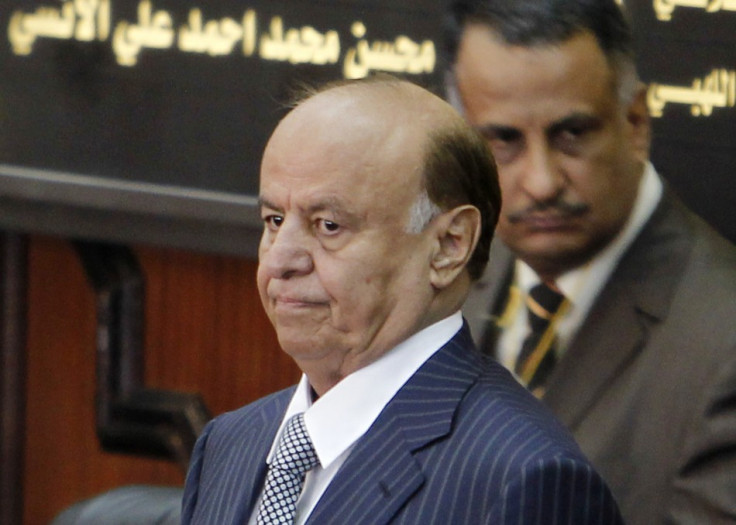 Officials have confirmed the US is teaming up with Yemen's Houthi rebels, whose official slogan and emblem includes the words "Death to America, death to Israel, damnation to the Jews".
In a major setback for US diplomacy, Houthi rebels, who mix this anti-American rhetoric with support from Iran, toppled President Abd-Rabbu Mansour Hadi's Western-backed government on Thursday 22 January.
Following the fall of Hadi's government, there were reports the Houthis had taken over the Yemeni security services, which provide intelligence to US drone operators for the Central Intelligence Agency (CIA) and the US Joint Special Operations Command.
However, confirmation of a tie-up between the US and the Houthis came as Michael Vickers, the Under Secretary of Defense for Intelligence, said it is a "safe assumption" the US is maintaining these intelligence ties.
"We've been able to continue some of our counterterrorism operations against al-Qaida in the past months," Vickers added, during a discussion on intelligence at the Atlantic Council.
Vickers' comments echo recent unofficial reports that US officials are pushing to open talks with the Houthi leaders to continue intelligence cooperation and operations in a bid to battle a common foe, Al-Qaeda in the Arabian Peninsula (AQAP).
Unity in fighting AQAP
Now the dominant force in Yemen, the Houthis control much of the northern part of Yemen, which includes the Yemeni capital of Sana'a.
But the insurgents face great difficulties in their control over the central and southern areas, where al-Qaeda's experienced Ansar al-Sharia is carrying out regular suicide attacks.
It is precisely to take control of these areas that Houthi leaders may be wiling to join forces with the US - notwithstanding the militia's Iranian ties.
While it is unclear just how much control Iran is exerting over Houthi rebels in Yemen, it has been providing arms, money and expertise to the Shi'ite militia since at least 2011, according to Bruce Riedel, a director of the Intelligence Project at the Brookings Institution, a liberal thinktank.
Military drone strikes to continue
The US suspended its counterterrorism operations in Yemen with the resignation of US ally Hadi, as three officials last week told Reuters the political turmoil had left America's counter-terrorism campaign "paralysed".
Following the takeover, US President Barack Obama's administration officials insisted counterterrorism operations in Yemen against AQAP would continue but there were indications some specific US missions and training might be suspended, reduced or altered on a case-by-case basis.
Currently on a three-day visit in India, Obama told a news briefing with Indian Prime Minister Narendra Modi in New Delhi on Sunday 25 January that the US would continue with drone strikes against "high-value targets inside of Yemen" from al-Qaeda.
Earlier this month, AQAP's leader Sheikh Nasr al-Ansi claimed responsibility for the Paris attack that left 12 people dead at the headquarters of satirical magazine Charlie Hebdo.
Elsa Buchanan is a London-based freelance writer, photographer and multimedia producer.You can find out more about her by visiting her website.
© Copyright IBTimes 2023. All rights reserved.