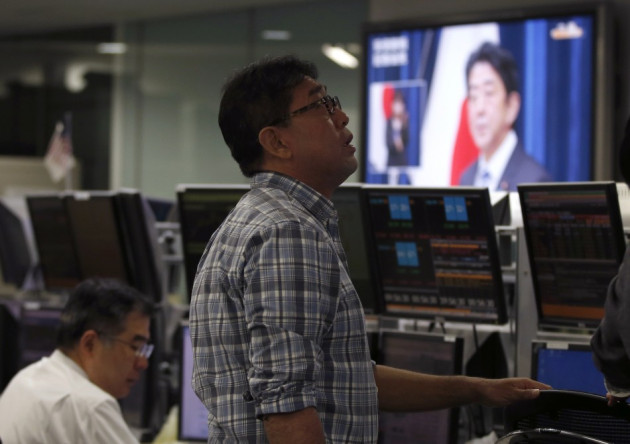 The yen fell to a two and a half year low against the US dollar after Japan's Prime Minister used a nationally televised interview to once again challenge his central bank Governor to do more to ignite inflation and revive the fortunes of the world's third largest economy.
Shinzo Abe said Japans needs "bold" monetary policy and wants the Bank of Japan to implement a 2 percent inflation target that should be pursued immediately rather than over a longer-term schedule preferred by BoJ Governor Masaaki Shirakawa. There are also reports that Japan will deploy a $600bn fund to purchase foreign government bonds as part of its latest effort to weaken the yen.
"The BoJ basically says it sees 1 percent inflation as a loose goal," Abe said during a Sunday interview with the public broadcaster NHK. "That doesn't show it's responsible to achieve it and doesn't show strong determination."
The yen fell to 89.68 against the US dollar in overnight trading, the lowest level since June 2010, before settling into back to 89.35 during European hours. It also hit a 20-month low against the European single currency.
"Japan is the world's most interesting story in 2013 and short yen is my number one trade," said RBS's head of European trading strategy Andrew Roberts in a client note. "There are negative implications for Japanese government bonds, but quantitative easing (by the BoJ) may put paid to those. The trade is clearer in foreign exchange."
Abe's comments - which reflect a series of statements he's made since his conservative establishment Liberal Democratic Party was swept into power following a landslide victory last month - will put increasing pressure on the BoJ as it prepares for a crucial two-day interest rate review meeting that begins on 21 January.
His new cabinet approved an emergency stimulus package last week worth around 10.3tn yen ($115bn/£71bn) - the equivalent of 2.2 percent of GDP - that includes boosts to private companies and local governments and aims to create around 600,000 new jobs.
Abe has also promised changes to the Bank of Japan Act - the legal framework under which the BoJ has operated since 1997 - that would lead to lower (and possible negative) interest rates, an increased inflation target and the direct underwriting of government bonds and argued that the most "pressing" task for the economy is to "free itself from deflation and the strong yen so an economic recovery can occur."
Japan's core rate of inflation has been in decline for the past four months, hitting -0.5 percent in November. The BoJ's preferred target, which strips out the costs of fresh food and fish, reversed course in November and dipped to -0.1 percent year-on-year.
BoJ Governor Shirakawa has been publically resistant to such aggressive tactics, putting the latter at "the top of the list of things you shouldn't do. No advanced country has adopted such a policy. Even the perception that the BoJ is directly underwriting government debt could lead to higher interest rates and hurt public finances."
The BoJ has had eight separate rounds of quantitative easing amounting to more than 60 trillion yen and set up a collateral lending programme worth around 80 trillion yen. It's near-zero interest rates help support directed loan schemes to industries such as clean technology and nursing care and it has eased collateral rules for loans linked to earthquake rehabilitation.
Shirakawa's five year term as Governor wraps up in April, just one month after the departure of his two loyal deputies: Hirohide Yamaguchi and Kiyohiko Nishimura. The three vacant seats offer Abe a golden opportunity to at the very least install pliant, dovish allies onto the nine-member board even if he's not able to drum-up support for wholesale change to the BoJ Act.