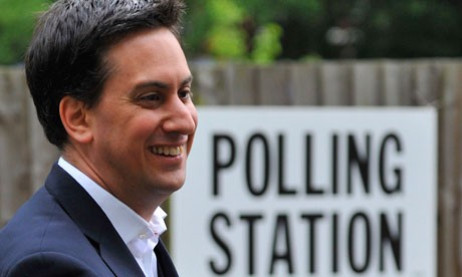 Labour has opened up its largest poll lead over the Conservatives since the general election, according to a YouGov poll for the Sun newspaper.
The party stretched its advantage over the Tories to 13 points, with voters apparently turned off by a senior Tory's description of his own party members as "swivel-eyed loons".
The latest figures show Labour on 42%, up 3% from the last polling data by YouGov on April 30, and its best YouGov total in seven weeks, while the Tories remained in the doldrums, falling 1% to 29%.
Labour's gains will provide a fillip to Ed Miliband after its support fell below the 40% mark in April's figures. Its support yesterday equated to the total polled by the Tories and Ukip combined.
The Tories received their lowest support since 2000, and their lowest ever rating by YouGov..
Ukip remained in third place, ahead of the Lib Dems on 13%, though their support dropped by one percentage point on the previous poll. The Lib Dems remained unchanged on 11%.
Asked whether they approved of the government's record to date, 59% said they disapproved, with only 23% saying they approved.
In a further worrying sign for the Tories, 50% of those polled said they believed the Conservatives appealed only to one section of society, while only 20% said the same of Labour, showing Miliband's "One Nation" rhetoric could be taking hold in the minds of voters.
A total 36% agreed with the proposition that the Conservatives "seem old and tired", compared to only 23% for Labour. And 31% said they believed that Labour's "heart was in the right place ... even if I don't always agree with it" as opposed to only 20% who said the same of the Tories.
Just 12% believed the Tories "seem to have succeeded in moving on and left its past behind", while 20% said they felt that was true of Labour, according to the figures which were updated from those YouGov released on Tuesday.