US President Donald Trump took to Twitter to revive a dubious story about a general who fought Islamic militants using bullets dipped in pig's blood, following the horrific terror attack in Barcelona, Spain on Thursday (17 August). The inflammatory tweet came just hours after a van plowed through a crowd of people in a popular tourist area in Spain, leaving at least 12 people killed and more than 80 injured.
Trump suggested in the tweet that people should study the early 20th century general, John Pershing, and his actions during the US war in the Philippines.
"Study what General Pershing of the United States did to terrorists when caught," Trump tweeted. "There was no more Radical Islamic Terror for 35 years!"
The president seemed to be referring to a widely debunked myth that Pershing used bullets dipped in pig's blood to kill groups of Muslim insurgents. Another part of the tale is that he buried their bodies with pigs as well. In the Islamic faith, pigs are considered ritually unclean.
The story, which has been making the rounds online for years, has been widely discredited by historians.
According to PolitiFact, "there is no evidence that Pershing himself committed these acts, there is nothing said about the use of 50 bullets dipped in pig's blood, and most important, there is no evidence to support Trump's claim that this tactic was effective in stopping violence -- or that it would provide a useful policy today."
Trump's claim has also been given a "pants on fire" rating by Politifact — one that is given to the "most ridiculous falsehoods."
Trump has previously referred to Pershing during the election campaign in 2016 as well. Last year, his former campaign manager Corey Lewandowski revealed that Trump knew the story was a myth, but decided to tell it at rallies.
The president's controversial tweet comes amid fierce criticism over his response to the deadly violence at a white supremacist rally in Charlottesville, Virginia. After failing to directly condemn neo-Nazis, the KKK and white supremacist groups, Trump said on Tuesday that "both sides" are to blame for the violence.
"Before I make a statement, I like to know the facts", Trump explained.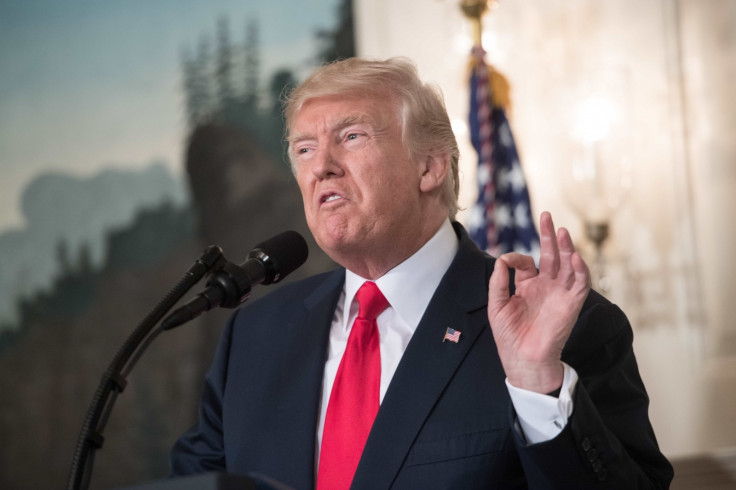 Twitter immediately erupted with outrage and disbelief at the president's decision to revive and spread the "pig's blood" myth and "praising war crimes" in the immediate aftermath of the attack. Many also called for his immediate impeachment.
"What the actual holy f**k Donnie", one Twitter user wrote. "That Pershing story is as false as your tan hun."
Big Bang Theory star Mayim Bialik tweeted: "You are completely disgusting."
"@realDonaldTrump, you embody the worst of us: willful ignorance, no heart, no courage. You are unfit to serve as @POTUS," one person tweeted.