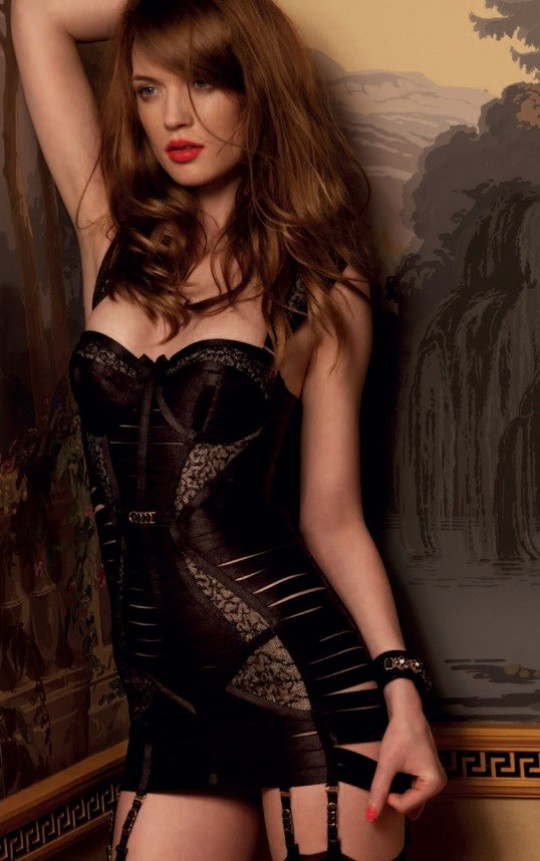 Selfridges has launched a lingerie line that will set pulses racing in time for Christmas.
The department store will exclusively stock made-to-measure underwear by London-based demi-couture lingerie label Bordelle, whose capsule collection includes a girdle dress that costs almost £4000.
Bordelle founder and designer Alex Popa said the lingerie is worth the eye-watering price tag because it uses expensive materials.
The bondage-inspired pieces are made from gold filigree, Swarovski crystals, satin elastic bands, customised French embroidered lace and 18-carat gold plated decorations and buckles. Only three of each will be made.
"The brand has been going for five years now, and we really wanted to create something really decadent this Christmas," Popa told Vogue.
"Each piece is handmade and numbered one, two or three of three. The pieces use gold filigree, Swarovski crystals, the most luxurious fabrics - and each piece takes seven to 10 days to make. Completely made to order, it's our most couture collection yet."
Bordelle launched in 2009 and have made designs for celebrities including Lady Gaga, Shakira and Christina Aguilera.
"We've got an amazing client base," Popa added. "Stores like Selfridges have been supportive right from the beginning and our clients' feedback has really helped me develop and change the range.
"They know what they want and we've added colours and fabrics in response to what they need. The new accessories range - paddles and bracelets - will be the next focus, and we'll be developing our swimwear too."
Customers that do not want to splash the cash can still treat themselves or their partners to other items in the collection which are more affordable. Prices range from £54 for an 'everyday' thong to a £420 for a simple corset dress.