YouTube is revamping its music offering by launching YouTube Music Key, a premium subscription service which it hopes will challenge the current streaming kings such as Spotify and Pandora.
YouTube claims to be the "world's biggest music service" but until now, the way the site organised its vast musical content was a bit of a mess.
As part of its revamp, YouTube is trying to make it easier for users to discover their favourite artists while it will also allow musicians and singers a better way to engage with their fans.
The update is rolling out from today (13 November) and users will be able to see an artist's entire discography or "play a full album with both their official music videos and high-quality songs our music partners added to YouTube."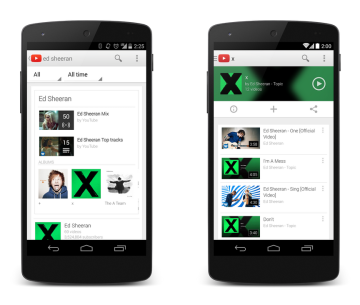 Subscription service

However the most interesting part of the new-look music offering is YouTube Music Key, a $9.99-a-month premium subscription service which will allow for ad-free music, background play and offline viewing on smartphones, tablets and YouTube.com.
A YouTube Music Key subscription will also include a subscription to Google's Play Music service with its catalogue of over 30 million songs and "expert-curated" playlists.
The service is initially launching in beta form and will be available in the US, UK and select other European countries.
Those interested in testing the service can sign up here and invitees will get access to the service for free for six months before paying $7.99-a-month. Specific UK pricing has yet to be announced, but it is likely to be £9.99 for the general public and £7.99 for those testing the service.
"We want to give fans more ways to enjoy music on YouTube, but also give artists more opportunities to connect with fans and earn more revenues," said Christophe Muller, YouTube's music partnerships director.
Swift vs Spotify
The music streaming space has been in the headlines in the last week after Taylor Swift pulled her entire catalogue from Spotify, which drew the ire of founder Daniel Ek.
Swift apparently wanted to only allow her music to be accessible to Spotify's paid-for service, but Ek claimed the singer was on track to earn close to $6 million from Spotify this year.
Swift's record label Big Machine has countered that claim however, saying the pop icon has earned just $500,000 in the last 12 months from the streaming service.
The relationship between artists and streaming services like Spotify has been fractious at best as the streaming platforms increase in popularity and huge sections of the public ditch buying new albums in favour of paying a monthly subscription.
SoundCloud, another streaming music service, has yet to pay a single penny in royalties to artists, having this week signed its first deal with Warner Music Group and announced plans to launch an ad-free subscription service in 2015.
Apple's recent acquisition of Beats has raised expectations of a revamped music streaming service from Apple, and with the likes of Pandora and GrooveShark also in the market, YouTube Music Key will be hoping its video-focus will be a big enough selling point to attract a significant slice of the market.