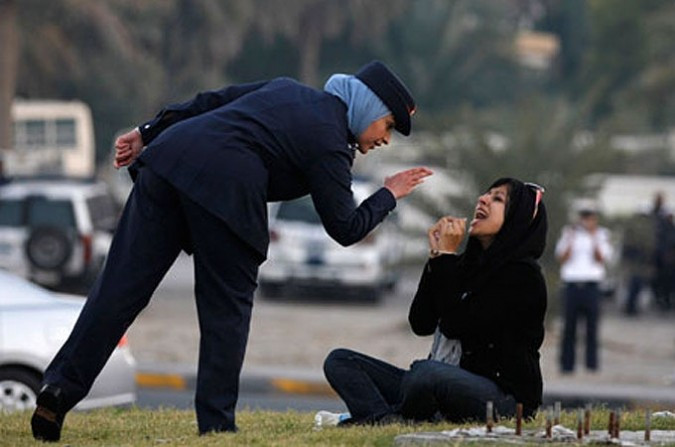 Zainab al-Khawaja, daughter of the jailed human rights activist and hunger striker Abdulhadi al-Khawaja, has been sentenced in abstentia to one month in prison in Bahrain for her role in an anti-government protest last month.
She was convicted of confronting a policewoman and taking part in an unauthorised rally against Bahrain's regime.
She has repeated refused to appear in court and the sentence was announced in her absence.
On the same day that the incident took place in April, Zainab was charged with obstructing traffic by blocking a main road in the capital Manama.
She was arrested the day before the Formula One Bahrain Grand Prix began, while sitting peacefully on a roundabout in the middle of a main road leading to the race circuit.
Her father, Abdulhadi al-Khawaja, appeared in court in a wheelchair earlier this week to attend a retrial of his involvement in pro-democracy protests last year.
The activist, who is being retried along with 20 opposition activists, reportedly looked "frail and weak" after more than 100 days on hunger strike.
The defendants were convicted throughout 2011 by the National Safety Council, a military tribunal, of plotting to overthrow the state. But in April the Court of Cassation, the highest court in Bahrain, ordered a retrial.
Zainab, who is known on Twitter under the nickname AngryArabiya, has always denied the charges, which she said were politically motivated.
In a letter from prison, Zainab rejected the legitimacy of the court and pledged to continue to refuse to attend trials. A deal with the authorities, she claimed, would undermine the pro-democracy movement in the country, even if it means not seeing her two-year-old daughter for a long time.
"Yes, I do dream of my daughter, while I sleep and also when I'm awake, but when I am home with her, I know my mind won't be at peace," she wrote.
She is troubled by the plight of activists like Jaffar Salman, whom she described as: "Jaffar, an innocent man who was shot in the face with birdshot gun, Jaffar who lost both his eyes. Jaffar who was sentenced in a trial that lasted less than 15 minutes, without a lawyer, without any family members."
Zainab explained: "I could hold my daughter in my arms, but I'll close my eyes and imagine Jaffar hearing his daughter's voices after months and months living in prison, in darkness.
"If I get released, every village I pass through will shout the names of countless prisoners of conscience," she wrote. "All the walls will show me their faces."
"I am not Zainab only, I am Jaffar and Hassan, I am Ahmed and Abbas, I am Masooma and Mansoor," she continued, citing the names of other imprisoned activists. "My case is the case of hundreds of innocent political prisoners in Bahrain, my release, without them, means nothing to me."