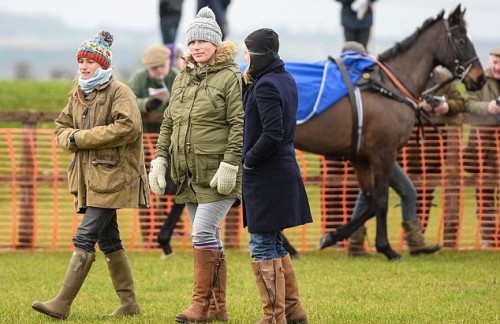 Zara Phillips looks like she might go into labour at any moment, but the Queen's grand daughter wasn't going to let that minor detail stop her from seeing her horses take to the race track.
The 32-year-old, whose first child is due this month, watched closely as her horses were put through their paces during the Heythrop Hunt Point-to-Point races in Gloucestershire.
Sporting a very large bump, the heavily pregnant royal looked fresh-faced and glowing, as she observed the horses from the sidelines.
An Olympic silver medallist, Phillips is a trainer in addition to being a successful eventer. She had three horses entered for the event, among them, the hotly tipped Devils Boy [sic] who appeared in the first race of the day.
Not overly impressed by their performance, she was nevertheless seen sharing a joke with friend. Her rugby player husband Mike Tindall was not present at the event however.
With the media awaiting news of another royal baby and the Queen's second great-grandchild, all eyes will be on Zara Phillips for the next few days.