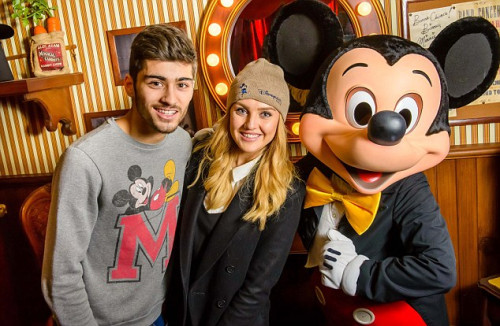 Zayn Malik and Perrie Edwards have gone a bit Disney, as they prepare to celebrate the One Direction star's 21st birthday.
It's not quite the rock n' roll lifestyle you might expect for members of two of the most successful British bands, but perhaps, quite appropriate for the young couple, who are due to marry this year.
Edwards arranged the surprise getaway for Malik, who turns 21 on January 12, and is reportedly a huge Disney fan.
The couple are staying at the luxurious Disneyland Hotel where they were treated to a special visit from Mickey Mouse himself.
Sporting a Mickey Mouse jumper, Zayn seemed elated as he and his 20-year-old fiancée posed for photographs with the famous Mouse. Meanwhile the Wings singer seemed to be paying her own unique homage to the mouse of the moment, wearing a baggy black suit with wide lapels and a Mickey Mouse embossed hat.
After venturing into the park, the loved-up couple were seen posing in front of the romantic setting of Sleeping Beauty's Castle.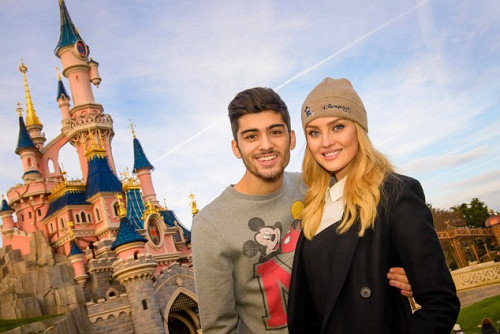 After lunch at The Blue Lagoon in Adventureland they experienced the world-famous rides at the attraction, including Big Thunder Mountain and Peter Pan's Flight and concluded their Disney day watching the nightly fireworks spectacular.
The couple first met on the set of The X Factor. It wasn't until after Perrie's band Little Mix won the competition's eighth season, that their friendship blossomed into a relationship.
During their two-year courtship, Zayn and Perrie have weathered alleged cheating scandals, after which Malik sealed his love with a permanent tattoo of the singer inked onto his arm.
The 1D star proposed to Edward in August 2013. The news was made public when the Little Mix star was seen brandishing an engagement ring at the UK premiere of the One Direction movie, This Is Us.
The couple are expected to tie the knot towards the end of 2014.