Ziad Abu Ein: Thousands Line Streets as Palestinian minister is buried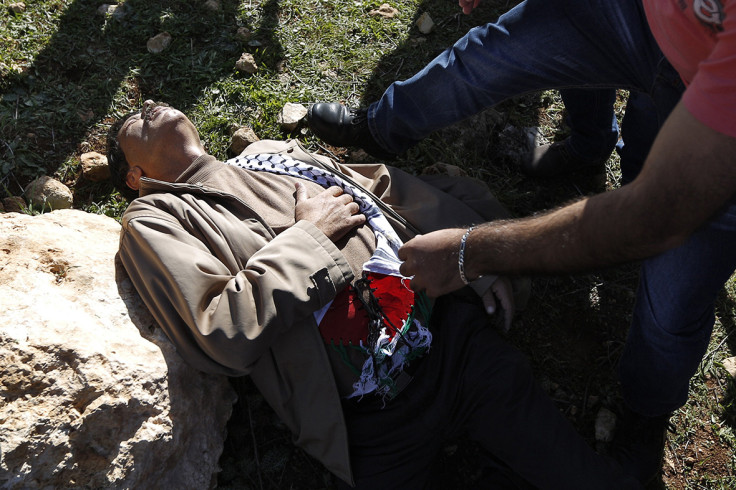 The funeral of a Palestinian minister who died after being manhandled by an Israeli policeman has drawn a crowd of thousands to Ramallah.
The coffin of Ziad Abu Ein, who was grabbed by the neck by the policeman during a protest in the West Bank, was carried by pallbearers in military uniform, in a procession accompanied by drums and bagpipes.
Abu Ein's coffin was then taken to a nearby ceremony, with a huge crowd of mourners thronging the streets as it passed. Guns were fired as the coffin was lowered into the ground.
The service was attended by key Fatah official Khlalid Itmazi, who used the service as an opportunity to condemn Israel's perceived oppression of the Palestinian people.
"The Palestinian people were asked by the Americans and the Europeans to make their cause a popular one and a peaceful one," Itmazi was quoted by The Guardian as saying.
"We did that, but in exchange we have neither peace nor stability. After this we should liquidate the Palestinian Authority and put the occupation under Israeli authority."
Both Palestinian and Israeli pathologists have confirmed that Abu Ein died of a coronary blockage caused by a haemorrhage, after he was pushed and grabbed by the policeman during a protest against a Jewish settlement.
However, the Palestinian pathologist claims the bleeding was directly attributable to injuries inflicted by the policeman, while the Israeli expert claimed it was due to stress.
© Copyright IBTimes 2023. All rights reserved.