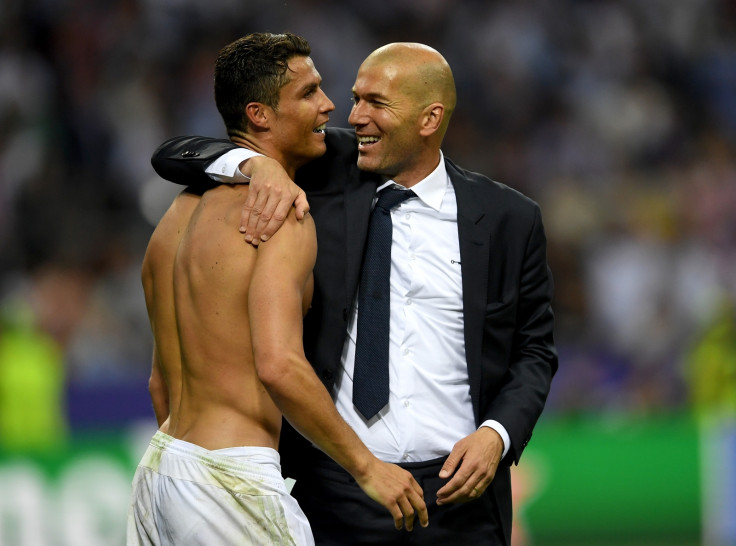 Zinedine Zidane has played down concerns over Cristiano Ronaldo's dip in form after the Portuguese international enjoyed another game to forget during Real Madrid's 3-0 win over Leganes. Yet, the French boss was delighted with Los Blancos' decision to tie him to the club with a new deal until 2021 as he said that the former Manchester United star should hang up his boots at the Santiago Bernabeu.
Ronaldo has enjoyed the slowest start to the season since he swapped Old Trafford for the La Liga giants in the summer of 2009. The 31-year-old has scored seven goals in 12 appearances but has failed to find the net in four of his past five games in all competitions.
The 3-0 victory over Leganes couldn't change that bad run after Ronaldo had another frustrating performance, while Gareth Bale made headlines by scoring a brace before young Alvaro Morata scored the third goal of the game.
The Real Madrid boss had previously admitted that Ronaldo was a little bit angry with himself for the dip in form. However, speaking after the win over Leganes, the boss said: "There's nothing wrong with him. We always want him to score goals, he got three in Vitoria. You might see him do things on the pitch because he always wants to get a goal. I don't think he's worried, he looks good and committed. It's true he likes scoring goals, especially at this stadium, but he's calm."
After the victory Real Madrid announced an agreement for Ronaldo to extend his stay at the Santiago Bernabeu until 2021, when he will be 36-year-old. Zidane has hailed the club's decision as he believes that the Portuguese star should end his career with Los Blancos.
"What Cristiano has to do is finish his career here. He is unique because of what he does and what he stands for. His dream is to end his career here and I am happy that he can renew his contract and end his career here just as I did a long time ago."
Meanwhile, the Real Madrid boss was also positive about the situation on the treatment table, as Luka Modric returned to action during the win over Leganes while Casemiro, Sergio Ramos and Pepe are doing good progress in their respective recoveries.
"Casemiro is back out on the pitch, he's still only running, he hasn't done any ball work yet. The main thing is that he's back on the pitch, it's a matter of days. I'm happy to have Modric back. Then there's Ramos and Pepe, I hope we don't get any unwelcome surprises during the international matches," Zidane said although revealing that Mateo Kovacic picked up a knock during the game.
"[Kovacic] is doing phenomenally well. When everyone is fit perhaps he'll get less minutes, but that doesn't mean anything. He feels good, he is training well and looks to be enjoying his football. He is always the same, whether he is playing or not. He picked up a knock today but I hope it won't be a serious injury."
Meanwhile, Zidane said that Real Madrid are yet to know the length of Karim Benzema's injury after the Frenchman missed the win over Leganes.
"There hasn't been a medical report because we have to wait 24 to 48 hours and tomorrow he will undergo tests to see what has happened with him," Zidane said when asked about the absence of his compatriot. "He had some inflammation and we had to wait for it to subside. He had a few issues but I hope that in the next few days he will get better."