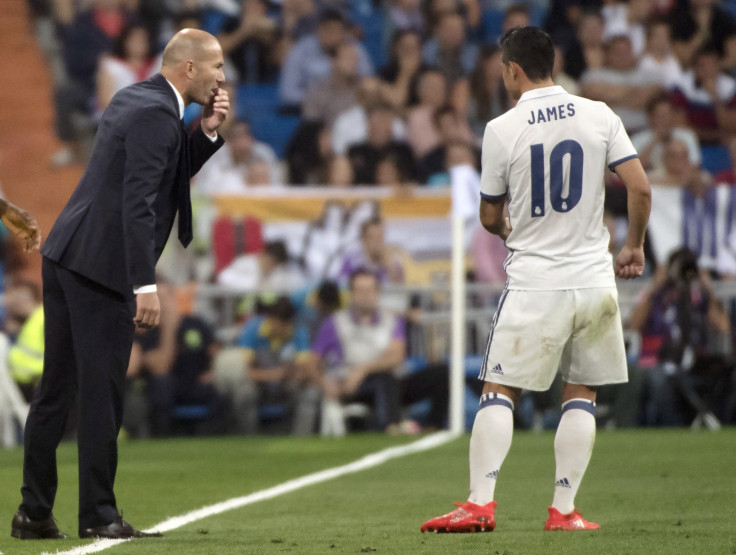 Zinedine Zidane has urged his Real Madrid side to keep their focus ahead of the Champions League game with Legia Warsaw on Tuesday (18 October), following their impressive 6-1 demolition of Real Betis at the weekend. The French boss hailed Isco's performance against the Andalucians, but confirmed the Spaniard could find his position under threat as James Rodriguez returns to the 19-man squad for the midweek tie.
The reigning Champions League title-holders secured a much-needed victory in La Liga to end their four-game winless run, having been held to draws by Villarreal, Las Palmas, Borussia Dortmund and Eibar prior to the international break.
There is thus an air of confidence at the Santiago Bernabeu ahead of their third Champions League match of the campaign. Real Madrid are second in Group F on goal difference. Zidane has, however, warned his side not to take anything for granted against Legia, despite the Poles looking the weakest team in the group.
"Both teams are playing in the same competition, so we are at the same level. The match will be 50/50. We must start well and make it difficult for them from the off. Although a lot of people say that there are differences between the teams, we're playing in the same competition and if there is a difference we must show that out on the field," Zidane said in a pre-match press conference. "Now we have another game, another competition, and we're not going to say that we will score a lot of goals. That does not happen. We have to prepare well and see what happens tomorrow."
Isco took advantage of injuries toJames, Luka Modric and Casemiro to make his second start of the league campaign against Betis, helping his team's cause with two goals.
"He's an important player," Zidane said when asked about the former Malaga midfielder. "You will concentrate on one player, but he is always working well. He knows where he is and the difficulties, but he works hard and I'm happy with his performance and his goals. He is important and I like him."
The Spaniard could keep his place in the line-up against Legia, but Zidane has revealed James is now back in contention and could usurp his teammate. Casemiro, Modric, Sergio Ramos and long-term absentee Fabio Coentrao are all out of the 19-man squad with injury, along with youngster Mariano.
"James is fine, he's already better. It is his first training session with the team and he is fine," the Real Madrid boss confirmed. "No discomfort, physically he has recovered and has stayed back taking free kicks at the end. He's okay."
Zidane also backed Karim Benzema to recover his best form despite some pundits suggesting he should be dropped for Alvaro Morata.
"He needs a run in the side to feel better. The most important thing is that he doesn't get the pains that he had again. It is important that he gets a run of games. We must be careful that he's not playing every game. All players want to play. He looks good to me and should continue doing the same thing," the Real Madrid boss said while when asked about Morata's lack of playing time.
He added: "He's very good, working hard and he's going to have minutes. He knows where he is. He is focused and will have minutes here and there. When he goes on he does what's asked of him and he competes, that's the most important thing. We are a team and we will approach everything together. There are players who will play less, that will always happen".