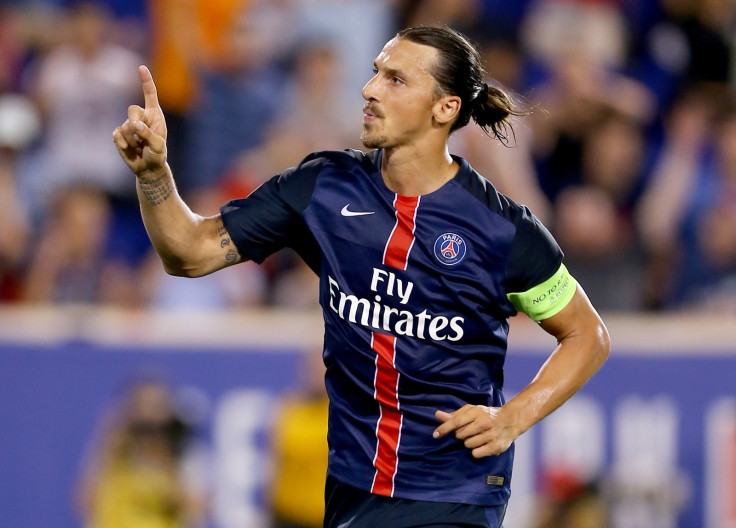 Zlatan Ibrahimovic claims his relationship with Manchester United manager Louis van Gaal is "not good", yet appeared to stop short of closing the door entirely on a future move to Old Trafford by insisting that both men are professionals and that such fights are something he relishes.
The Swedish striker has proved a controversial but successful figure during his senior career to date, winning a plethora of silverware with Ajax, Juventus, Inter, Barcelona and AC Milan before helping current employers Paris Saint-Germain to three consecutive Ligue 1 titles.
While Ibrahimovic has enjoyed sustained success across the continent, however, he has never previously set foot in the Premier League and had traditionally struggled to register an impact against English sides in the Champions League prior to his well-taken brace against Arsenal in 2010 and PSG's last 16 away goals victory over Chelsea in March.
The outspoken 33 year old was actually sent off in the second leg of the aforementioned tie at Stamford Bridge following a mistimed challenge on Oscar, but that minor indiscretion has not stopped renewed links suggesting he could be set to join Manchester United.
The London Evening Standard claimed that the Red Devils had been tipped to beat former club Milan to his signature with Ibrahimovic having just one year left to run on his current contract at the Parc des Princes.
His prickly relationship with Van Gaal, owing to the pair's previous stint with Ronald Koeman at Ajax, is seen as a potential barrier to such an unlikely deal, although the player's latest quotes would suggest that they could work together successfully.
"No, that's not good," Ibrahimovic told Sports Illustrated. "He was a director in Ajax, and the way he is working is not the way I work.
"At the end, I think he is professional and I am professional. Whoever I work with, I never had this kind of problem, because at the end I need to do my job, he needs to do his job. And I think a lot of fights would happen, but that's something I like."
Legendary United goalkeeper Peter Schmeichel spoke enthusiastically in March regarding the possibility of Ibrahimovic joining his former club, telling French publication L'Equipe that he was born to do so.
"What he does with PSG is incredible. He gives so much credibility and visibility to PSG. This is someone who takes his responsibilities," he said.
"Last summer there were rumours that he would come to Manchester United. I then said that Zlatan was built for the club, he was born to play there."
Intrigued United supporters will no doubt hope that someone of Ibrahimovic's experience and undisputed calibre will become the surprise signing that Van Gaal first alluded to following his side's 1-0 victory over Club America at the International Champions Cup tournament, although it is important to note that the Dutchman has since denied that his proposed addition will be a striker.
Ibrahimovic himself has remained fairly coy on his future in recent weeks, explaining on 24 July that responsibility for his next move remains in the hands of agent Mino Raiola.
He has hinted that a stint in Major League Soccer would appeal, however, telling Yahoo Sports: "I would like to play in US, absolutely. I would like to play. Which team? Am I allowed to say that? No, I cannot say that.
"I think it would be an amazing experience. I see that soccer is growing a lot in the US. I mean, I was here 10 years ago and soccer was not on the level that it is today, but it's growing. It's growing in the right direction and I want it to be on the level of Europe. It will come here."