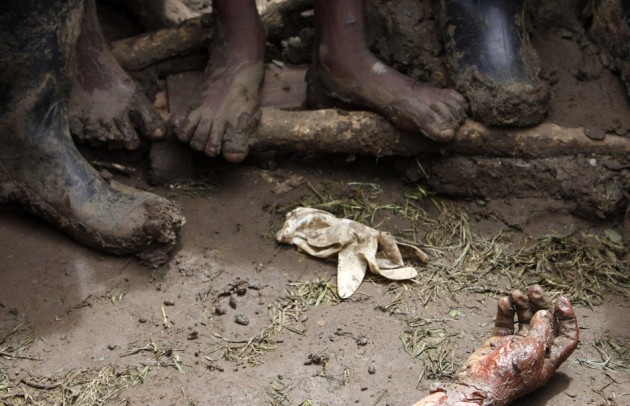 More than 100 people, mostly children, are feared dead after landslides decimated an eastern district of Uganda.
Rescue workers tried to dig their way through thick red sludge with hand-held tools after three villages were buried in mud dislodged by torrential rain.
"We cannot establish the exact number of homes and people buried," said Stephen Mallinga, Uganda's minister for relief and disaster preparedness.
The massive mudslide caught people unawares. The majority of missing people were indoors when huge volumes of mud poured through the district of Bududa, burying homes and people and killing livestock.
Workers continued to hack away at the sludge with machetes and hoes, but admitted they had almost given up hope of finding anyone else alive.
Michael Solo, who lost all four of his children in the landslide, told the Associated Press: "I used to love this place. But now I want to go. I just want to go."
Villager Alice Bunyolo told reporters that she heard about a young man who was cutting grass when he heard a strange sound and saw the ground begin to move. He ran off and later returned to see mud covering the western side of the hill, with homes underneath.
The area has been labelled a "death trap" by junior minister for disaster preparedness, Musa Ecweru, and is hit by mudslides almost annually. In March 2010 a slide on a similar scale killed 100 people.
Ecweru said it was not known when bulldozers would be available to help with the clearance.
He said: "The local tools cannot manage. We can only do what's possible."
As many as 400,000 people live in the area surrounding Mount Elgon, a region the Ugandan government is at risk of more landlsides following forecasts of further downpours.
Villagers have stubbornly remained in the area despite repeated warnings as they view it as their ancestral home.
Ugandan president Yoweri Museveni claimed that the landslides were divine retribution for the people's failure to give to the land what they take from it.