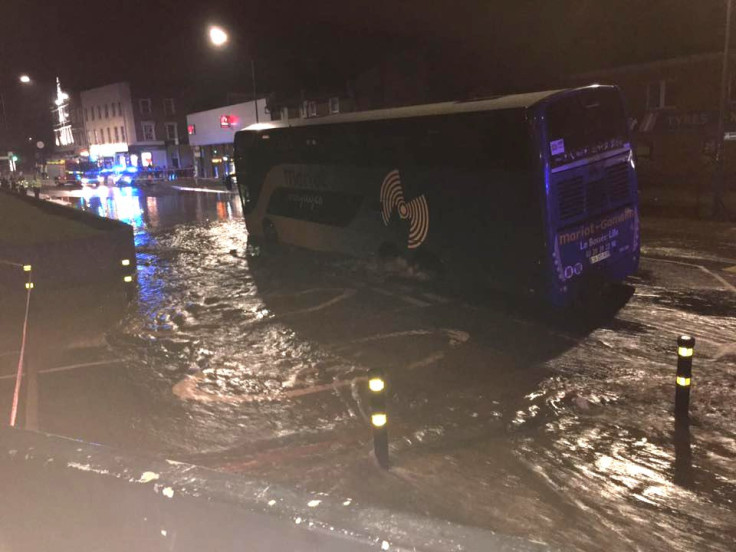 A major incident has been declared after a coach got stuck in a sinkhole on a high street in southeast London.
At least 100 passengers, including 30 children, were left stranded on Saturday (26 November) night, after the vehicle fell in a hole on Lee High Road in Lewisham.
The sinkhole was caused by heavy flooding from a burst water main, ITV News reports.
Firefighters rescued all the passengers from the coach, which was left leaning to one side in the floodwater after the hole opened up.
According to Sky News, Thames Water confirmed that a burst water main had caused the sinkhole and that a team was at the scene working to fix the problem.
They also explained that "customers in #SE13 may be without water," while repairs are being carried out.
Staff at a nearby Lidl supermarket provided food for the stranded passengers who are believed to be tourists.
Video taken by bystanders at the scene shows fast-flowing water running through the town centre.
A temporary shelter has been set up on Bonfield Road for people displaced from homes due to the flooding, Scotland Yard confirmed.
Lewisham Central Police tweeted: "Major Incident declared; a sinkhole has opened on Lee High Rd and the area is heavily flooded. Road closures in place. Avoid the area!"
London Fire Brigade tweeted: "We helped passengers off a coach that fell into a hole caused by flood water on Lee High Road in Lewisham. Please avoid the area if possible."
Pedestrians and drivers were urged to avoid the area as police warned the road was closed "and will be for some time".
Bueses in the Lewisham area have also been diverted TFL announced.