Canadian PM Justin Trudeau faces public backlash for 'whitewashing' Fidel Castro
Commentators expressed dismay as the Canadian premier disregarded the brutality of Castro's regime in a message of condolence.
While the death of former president and Cuban revolutionary Fidel Castro has prompted an outpouring of condolence messages from political leaders around the world, Canadian Prime minister Justin Trudeau has been lambasted on social media for his 'disgraceful' and 'embarrassing' reaction to the passing of the controversial figure.
Issuing a statement he hailed "el Comandante as a "remarkable leader", citing his "tremendous dedication and love for the Cuban people" which he claimed was reciprocated.
The statement reads: "It is with deep sorrow that I learned today of the death of Cuba's longest serving President.
"Fidel Castro was a larger than life leader who served his people for almost half a century. A legendary revolutionary and orator, Mr. Castro made significant improvements to the education and healthcare of his island nation.
"While a controversial figure, both Mr. Castro's supporters and detractors recognized his tremendous dedication and love for the Cuban people who had a deep and lasting affection for "el Comandante".
Trudeau recently visited Cuba and met with its current leader, Raul Castro, Fidel's brother.
Speaking of his family's personal affections for the revolutionary he added: "I know my father was very proud to call him a friend and I had the opportunity to meet Fidel when my father passed away. It was also a real honour to meet his three sons and his brother President Raúl Castro during my recent visit to Cuba.
"On behalf of all Canadians, Sophie and I offer our deepest condolences to the family, friends and many, many supporters of Mr. Castro. We join the people of Cuba today in mourning the loss of this remarkable leader."
While Castro was revered as a revolutionary icon in the Latin American country, and in the annals of history is widely perceived as a defining figure of the 20<sup>th century, for liberal Cubans he was an oppressive and brutal dictator who failed his people.
As news spread of the death of Fidel Castro on Friday, (25 November) reaction ranged from grief to joyous celebration. In Havana, the people mourned the death of their leader. In stark contrast, in the US, Cubans who continue to live in exile took to the streets in celebration on hearing news of the demise of the 90-year-old former president, who many hold accountable for the deaths of innocent people and for tearing families apart.
"I shouldn't be happy because a person has died, but he separated my family. My parents never got to see Cuba again. So today, I rejoice for this," said one woman.
The Cuban leader's regime adopted a militant policy, employing repressive tactics and often torturing those who did not subscribe to its revolutionary path.
The brutality of the regime is undisputed. Hence Trudeau's effusive praise of the controversial figure was met with widespread derision, as commentators accused the Canadian PM of "ignoring and even revising" history.
With the hashtag "trudeaueulogies" trending, Twitter went into meltdown, as social media users decried the PM's whitewashing of Castro.
"What is wrong with Justin Trudeau? This is embarrassing for Canada," said one commentator.
"Fidel Castro dies on Black Friday. US: Cuban Americans take to the streets celebrating.
Canada: Justin Trudeau sings the monsters praises," remarked another.
"Canada's @JustinTrudeau on the death of #FidelCastro. Quite the different worldview than neighbor to the south"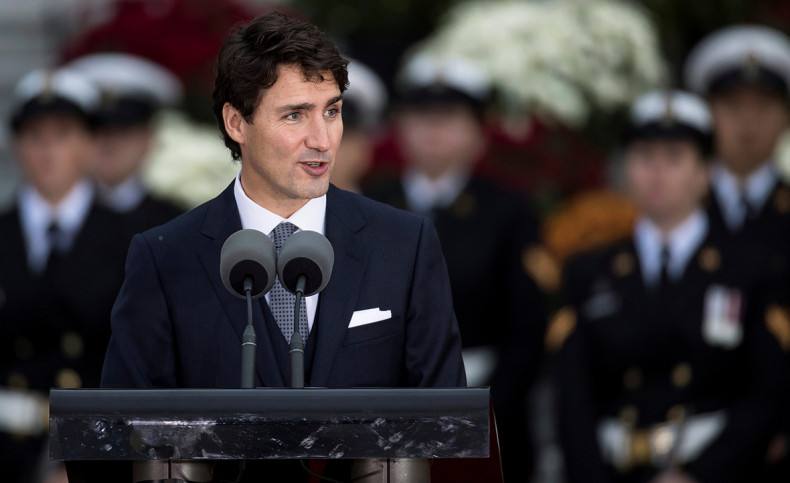 Many Twitter users were unequivocal in their condemnation of the Canadian PM. "@JustinTrudeau praising the oppressive Castro regime is disgusting."
"You know Canada might be in some trouble when our big brother notice the comments of our so called PM @JustinTrudeau"
Others expressed their disbelief, claiming that the statement was so illl-conceived, it could not possibly be genuine. "Is this a real statement or a parody? Because if this is a real statement from the PM of Canada it is shameful & embarrassing."
"Justin Trudeau HAS to be a troll. No sane person living in the modern world can honestly believe this," commented another.
In contrast, even President-elect Donald Trump's brief and characteristically boorish reaction was deemed more favourable, when he announced bluntly to his Twitter follows: "Fidel Castro is dead!"
President Barack Obama offered a more tempered reaction, offering condolences to Castro's family, but acknowledging the reality of the regime and a leader who had disempowered his own people and inflicted untold atrocities upon them.
"History will record and judge the enormous impact of this singular figure on the people and world around him," he said, offering a more measured response to the passing of the controverisal figure.
Fidel Castro, died aged 90. His death was announced by his brother and current Cuban president, Raul Castro, late on Friday.
Nine days of national mourning have been declared until 4 December, when Castro's ashes will be interred during a memorial service in the southeastern city of Santiago after a four-day procession through Cuba.