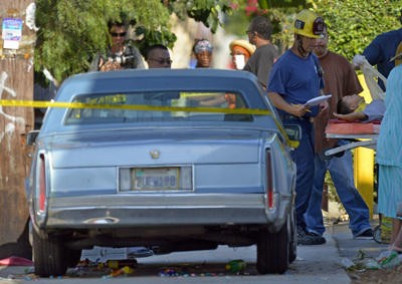 A 100-year-old man drove his car into 11 people, including nine children, outside a primary school in Los Angeles, police said.
Police said that Preston Carter backed his Cadillac on to a crowded sidewalk as students waited to be picked up by their parents.
Although none of the victims suffered life-threatening injuries, four of the children were in critical condition.
Witnesses claimed that although the crowd banged on the car windows and screamed for the driver to stop, the car continued moving and ploughed into a group of children.
Children's backpacks, shoes, sweets and loose change were scattered at the scene.
Carter, who holds a driver's licence and will be 101 on 5 September, told KCAL-TV: "My brakes failed. It was out of control."
But police captain George Rodriguez said that the accident may have been down to Carter's age and not a mechanical failure.
"I think it was a miscalculation on his part. The gentleman is elderly," Rodriguez said. "Obviously he is going to have some impairment in his decision making."
Preston, who was not arrested, said of the accident victims: "I'm sorry about that. I wouldn't do that for nothing on Earth. My sympathies for them."