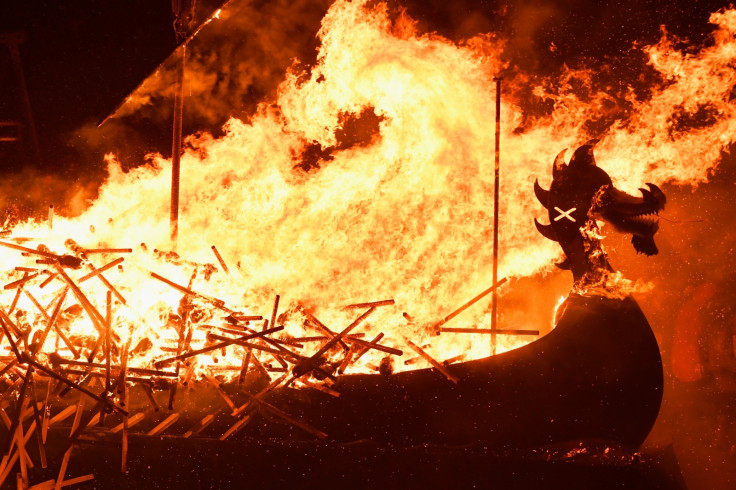 A 1,000-year-old Viking boat burial has just been discovered by archaeologists. The traces of the Viking boat were found underneath a market square in the Norwegian city of Trondheim. Researchers also found two bones, indicating that the boat may have contained the human remains of an ancient Viking.
Although the excavation site did not reveal any actual wood from the boat, researchers did find lumps of rust and some poorly-preserved nails indicating that a boat was likely buried at the location. Archaeologists estimate that the Viking boat was around four meters long and oriented in a roughly north-south position.
According to Ian Reed, an archaeologist from the Norwegian Institute for Cultural Heritage (NIKU) who confirmed the findings, researchers also found what appear to be small, personal items in the grave site, including a piece of a spoon and part of a key for a chest. The items could reportedly date back to roughly the 7th-10th century.
The burial site itself could be from the late Iron Age or the early Viking Age. "It is likely a boat that has been dug down into the ground and been used as a coffin for the dead. There has also probably been a burial mound over the boat and grave," NIKU researcher Knut Paasche, a specialist in early boats, said in a statement.
According to Paasche, the boat resembles an Åfjord boat, which is typically flat in the bottom midship and can also have a flat bottom, since these boats were designed to navigate shallow waters along the river Nidelven.
Although Viking boat graves from the Iron Age and the Viking period are not all that uncommon, this particular discovery marks the first time that a Viking boat burial from that particular period was found in Trondheim.
The Norwegian city has been undergoing some major excavations over the past few years. Last year, NIKU archaeologists uncovered an 11th century church, where former Viking king and patron saint of Norway Olav Haraldsson was first enshrined as a saint. It is believed that Trondheim was founded in the year 997 by Viking king Olav Tryggvason, according to a report in ScienceAlert.
Archaeologists still need to conduct further research, including a DNA test of the bones found at the grave site, to confirm whether the site was indeed a burial. However, the discovery indicates that Trondheim might be older than a medieval city.