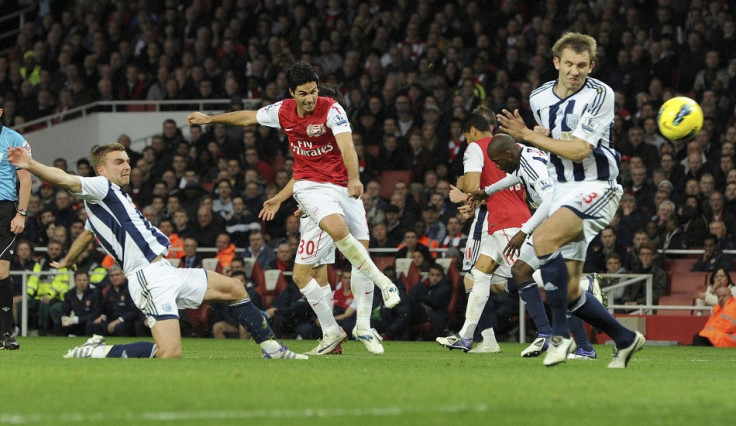 Mikel Arteta has been a great signing for Arsenal this season, according to Robin van Persie, with the prolific striker insisting his teammate is not only a highly skilled footballer, but intelligent to the game as well.
Van Persie has scored bags of goals this year, with the Dutchman currently holding a tally of 21 for both the Gunners and the national team so far this season.
And while Arsenal fans might believe that the club's successes are all about Van Persie at the moment, he thinks differently, insisting that Arteta is showing his worth already after moving to the side from Everton in the summer.
"What I really like at the moment is that you can see people stepping up a level and growing in confidence," Van Persie told Arsenal's Official Matchday Programme. "I can really notice that around the team.
"For example, Mikel Arteta is playing really well. He's so intelligent. He knows when to go forward, he knows when to sit back. Sometimes Alex Song makes a run forward, and because of his experience, Mikel can read the game perfectly, knows when to go forward, when to help his team out, or when to play for others.
"Everyone can see he has grown into his role, and you can tell he has played many games in the Premier League."
Arteta has made 15 appearances for Arsenal so far this season, and has two goals so far for the Gunners. The 29 year old, who made the £10 million transfer to the Emirates at almost literally the last minute of deadline day, was brought in to help fill the gap left by Cesc Fabregas and Samir Nasri.
And the star has slowly come into his own as the club, with Arsenal in turn recovering from their worst start to a season in over 50 years, and challenging once more for a top four spot and to get back into Champions League contention.
And should the club challenge for trophies in both Europe and England this season, Arteta will be credited alongside van Persie for helping Arsenal recover from one of their toughest summers to date.