At least 12 people have been killed as a powerful typhoon hit the autonomous region of Macau and other areas in southern China.
Typhoon Hato, a maximum category 10 storm, is the most violent typhoon to hit the southern region in recent decades.
The powerful storm uprooted trees, flooded streets and caused power outages, forcing businesses to close. Heavy rains and high winds smashed doors and windows.
At least eight people were reported dead and another 153 injured in Macau. Victims include two men who were found dead overnight in a parking garage.
"It's a calamity, the losses are high and a lot of buildings need repair," Macau lawmaker Jose Pereira Coutinho told AP.
He added that many people had no water or electricity and narrow streets in the older parts of the city had been flooded.
"People were just swimming, they cried for help. There were no boats. The water came so suddenly," he said.
Another four people were killed in Guangdong province, according to state news agency Xinhua. One person remains missing and another 26,817 people have been evacuated to temporary shelters.
"Compared to other typhoons, Hato moved fast, quickly grew more powerful and caused massive amounts of rainfall," Wu Zhifang, chief weather forecaster at Guangdong meteorological bureau, told Xinhua.
Meteorologists had warned of high floods as the typhoon occurred during high tides. A weaker Hato is moving into China's Guangxi region.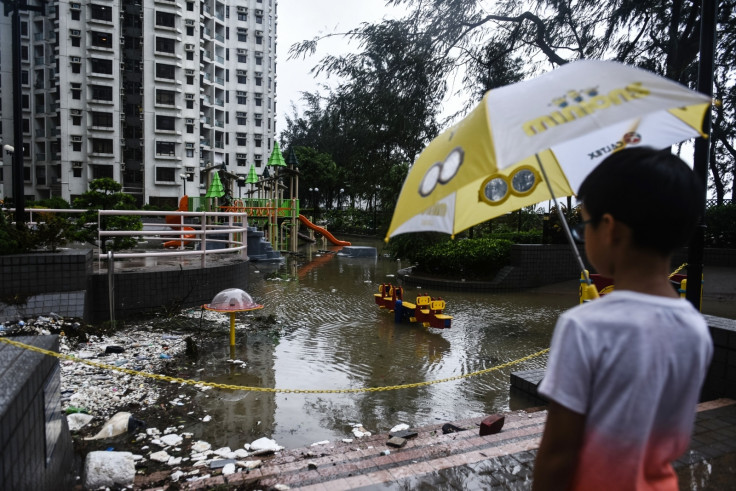 Another 34 people were reported injured when the typhoon hit the financial hub of Hong Kong on Wednesday (23 August). At least 450 flights were cancelled, financial markets suspended and schools closed as a result of the storm.
Hato is the first category 10 storm to hit Hong Kong since typhoon Vicente in 2012.
"I've never seen one like this," Garrett Quigley, a longtime resident of Lantau island, told Reuters. "Cars are half submerged and roads are impassable with flooding and huge trees down. It's crazy."
The storm in Hong Kong was downgraded to category three on Wednesday afternoon.