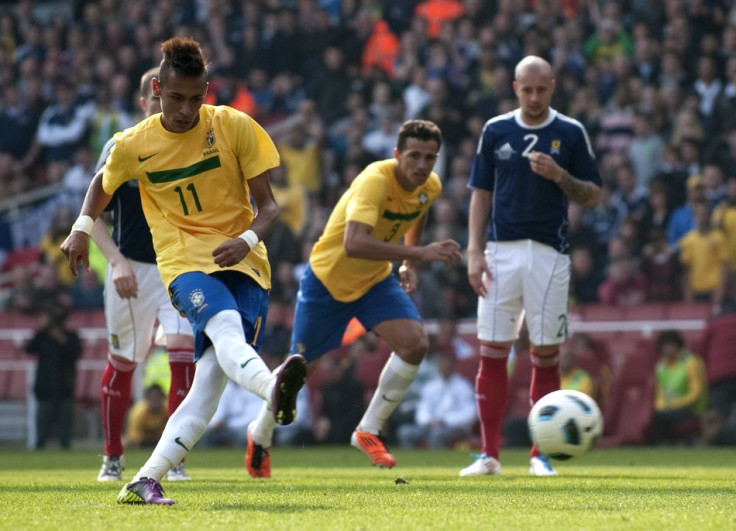 The pick of today's European football transfer rumours for 15 June 2011. Any transfer gossip surrounding Manchester United, Chelsea, Arsenal, Liverpool, Manchester City, Bayern Munich, AC Milan, Inter Milan, Juventus, Roma, Barcelona and Real Madrid will be covered here.
Premier League
The increasingly banal will-he-won't-he narrative arc of Cesc Fabregas's inevitable move to Barcelona is now entering its third year -- just think about that for a moment.
Enter Bacary Sagna to confirm what we all know already: little Cesc wants to join Barcelona. "I can say it's true that Cesc wants to go to Barca," he told The Sun. "At the moment, however, he is still Arsenal's captain."
With four years remaining on the 24 year-old's contract, the Gunners have told Fabregas they will repeat last year's party-pooping antics and do their best to prevent a sale to Barcelona, the Star reports.
In non-Cesc related news, Arsenal have made an approach for Shakhtar Donetsk midfielder Willian, according to talkSPORT. The 23 year-old will cost them £12m in unmarked one dollar bills and Gunners midfielder Denilson, no questions asked.
Resurrecting the ghost of gossip columns from yesteryear the Metro reports that Chelsea are considering a bid for Barcelona's David Villa, but only if the Catalan club choose to cash in on the Spanish international to fund their inevitable move for Cesc Fabregas. Manchester City are pretending to be in the running because they have loads of money, don't you know.
Across town at Manchester's second club, United are ready to submit a sneaky bid of £27m to Udinese and steal in-demand Chile midfielder Alexis Sanchez from under the noses of Manchester City and Barcelona. Or so says the Daily Mirror.
Depending on whichever internet-based source is your poison of choice, Sir Alex has been priced out of a move for Luka Modric by Tottenham's £50m valuation of the Croat. Ferguson will instead turn his powers of persuasion on Inter Milan, convincing the Italian giants to accept £30m in exchange for their creative dynamo.
Continuing their summer transfer policy of only bidding on players that Kenny Dalglish fancies, United are also interested in Liverpool-bound Charlie Adam and Sochaux's excellently monikered Marvin Martin.
Over on Merseyside, Liverpool continue to be linked to the same five players: the aforementioned Blackpool captain, Arsenal left-back Gael Clichy, Aston Villa's Stewart Downing, Ipswich forward Connor Wickham and Southampton starlet Alex Oxlade-Chamberlain.
In west London, it looks like Chelsea could miss out on elegantly coiffured Brazilian forward Neymar after a source closely involved in negotiations for the striker revealed that a deal involving Real Madrid was close to completion.
"If Chelsea will not pay £40m he will go to Real," the source said.
After refusing to pay £40m for a genuine striker, Chelsea will hand over £44m for Palermo's attacking midfielder Javier Pastore, according to the Sun -- who obviously has more creative accountants than us. The 21 year-old Argentine, who scored 11 Serie A goals (or about 4 EPL goals in the current economic climate) is also wanted by the only other three clubs who might conceivably be able to afford such a player: Real Madrid, Barcelona and Manchester City.
La Liga
Ernesto Bronzetti, an Italian agent with close links to Real Madrid president Florentino Perez, has claimed that a deal worth in excess of £35 million for Brazilian striker Neymar was "practically done", with a five-year contract ready to be penned this week.
But Neymar has denied rumours that he is set to join Real Madrid. "There is nothing [with Real Madrid]. Today, nothing will take me out of Santos," he said a tad unconvincingly.
Serie A
One player definitely not going to Stamford Bridge is Athletico Madrid's Sergio Aguero, who will swap not winning anything in Spain for not winning anything in Italy and join Juventus for £40m, according to Corriere dello Sport.
And finally, Marca claims to have spotted Kaka's dad pootling around AC Milan HQ the other day, put two and two together, and concluded that Inter have offered £25m for the current Real Madrid midfielder. Kaka, however, has insisted he is staying at Madrid where he can warm the bench and play FIFA in peace.