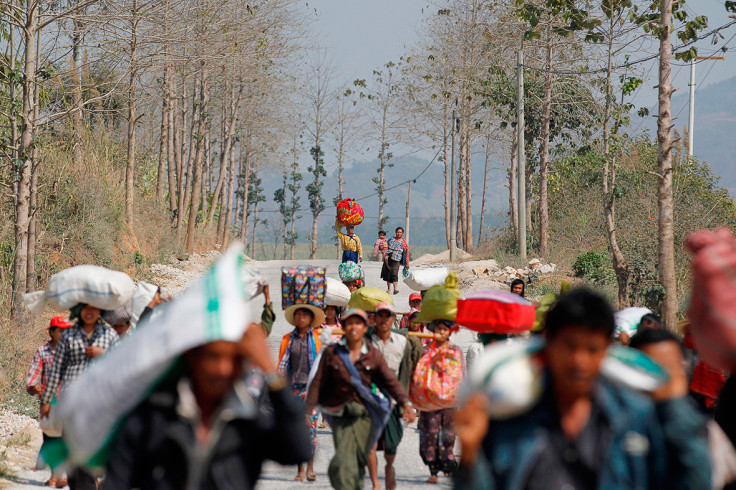 Clashes between Myanmar army and ethnic rebels near the border states of Kachin and Shan have forced nearly 15,000 people to flee into China over the past month, the UN Office for the Coordination of Humanitarian Affairs (UNOCHA) in Myanmar said on Tuesday (20 December).
Intense fight between government forces and armed rebels broke out last month across the northern part of the country. The series of attacks, which targeted military outposts and police stations, had forced China to put its army on high-alert along the border areas.
The conflict has affected aid access to people in the region and "is getting worse, not better", Pierre Peron, a spokesman for the UN body said. He added that another 2,400 people have been displaced as the result of the fighting.
"Humanitarian access to conflict areas in Kachin and Shan states is currently worse than at any point in the past few years. This has seriously affected the ability of humanitarian organizations to provide life-saving aid to tens of thousands of (internally displaced) and other conflict-affected people," Reuters cited Peron as saying.
While China said it does not immediately have the count of refugees who fled Myanmar, its foreign ministry spokeswoman Hua Chunying urged to resolve the issue through talks to ensure peace and stability on the border.
Government forces were believed to have clashed with armed rebels in northern Shan state at least 170 times in November, according to a Myanmar police official, who spoke on the condition of anonymity.
Weeks of clashes in the restive region has damaged the reputation of the country's leader Aung San Suu Kyi, who came to power in last year's election on promises to strike a peace deal with ethnic minorities in Myanmar. Three out of the four ethnic militant groups, who were involved in the fighting last month, were reported to have not joined a ceasefire accord that was signed between the Nobel laureate's government and eight rebel groups in October 2015.
Myanmar is already grappling with an ethnic conflict in northwestern Rakhine state, where hundreds of Rohingya Muslims were forced to flee to Bangladesh. The work by international humanitarian aid agencies has also reportedly been restricted in this restive region for more than two months.