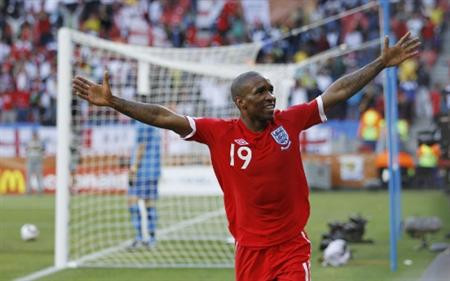 The pick of today's European football transfer rumours for 15 June 2011. Any transfer gossip surrounding Manchester United, Chelsea, Arsenal, Liverpool, Manchester City, Bayern Munich, AC Milan, Inter Milan, Juventus, Roma, Barcelona and Real Madrid will be covered here.
Premier League
Arsenal are set to spend £30 million this window to appease their disgruntled fans, according to the Daily Mirror. They will start their summer "spending spree" by replacing one goal-shy striker with another, as Nicklas Bendtner moves to Germany and -- learning nothing from the Sol Campbell story -- Jermain Defoe arrives from Tottenham.
The ebb and flow of news surrounding Cesc Fabregas and Samir Nasri drifts back in Arsenal's favour this morning with both players signalling they are happy to stay at the Emirates, or at least for one 24-hour cycle.
Forget De Gea, Young or Jones, that sound you can hear is the strangled celebrations of millions of United fans as Besiktas announce they have signed Bebe on loan with a view to a permanent deal.
Having seen Chelsea's £22m bid for Modric rejected, Sir Alex Ferguson isn't keen to get involved in a bidding war for the Croatian and will instead flip through his rolodex of 'dinky creative midfielders' and settle on one 'Wesley Sneijder'. The Dutchman will be allowed to leave Inter Milan for around £35m, according to the Daily Star.
United have also made an offer for Lens defender Raphael Varane, signalling perhaps, another nail in the coffin of Rio Ferdinand's career.
Having dominated the domestic market in each of the summer transfer windows since Sheikh Mansour arrived at Eastlands in 2008, Manchester City have been uncharacteristically quiet since securing Champions League qualification last month. Instead, a summer of squad pruning appears to be the order of day with Jerome Boateng the latest to leave, the 21-year-old having agreed a four-year deal with Bayern Munich.
Kenny Dalglish wants a piece of Steart Downing (well, ideally all, actually) and is prepared to pay up to £10m for the England international. Aston Villa, however, value the winger at £20m, so maybe Kenny will just get half a Downing, who knows, the story is in the Daily Mirror.
The Reds are edging closer to signing all of Charlie Adam, with Blackpool confirming that "preliminary discussions" are underway. If Adam does arrive Maxi Rodriguez and Raul Meireles will split the cab-fare to the airport and bid adieu to Liverpool, the former to Argentina and the latter to Inter Milan.
The Anfield outfit are also hoping to cash in on the exodus of players from St James' Park by bidding £22m for Newcastle left-back Jose Enrique and midfielder Jonas Gutierrez.
Having had a £22m bid for Luka Modric rejected, Chelsea are prepared to increase the Croatian's wages from £50,000 per week to £130,000 as well as throwing Didier Drogba Tottenham's way to sweaten the deal, says the Mail.
With Neymar apparently Madrid-bound (and Jose Mourinho preparing a £38m bid) Chelsea have turned their attention to Athletico Madrid striker Sergio Aguero after his agent rubbished rumours he had agreed to join Juventus.
The Blues are also keen on Barcelona midfielder Thiago Alcantara but the 20-year-old's future could depend on whether the Spanish side sign Fabregas.
La Liga
Real Madrid have claimed that they are in talks with Liverpool about Argentine midfielder Fernando Gago, says the Daily Star.
Madrid manager Jose Mourinho is also keen on signing disappointing Manchester City striker Edin Dzeko, with Emmanuel Adebayor set to leave the the Bernabeu this summer.
Across in Catalonia, Barcelona have blinked first in the race for summer transfer nom de guerre Alexis Sanchez, with vice-president Josep Maria Bartomeu confirming the club have started talks with Udinese for the Chilean winger -- who is also wanted by Manchester United and Manchester City.
Bojan Krcic looks likely to link back up with Luis Enrique, his former Barcelona coach, at Roma, according to his agent. "I don't think there would be any problem between Roma and Barcelona in reaching an agreement. He likes this transfer," Zoran Vekic told Eurosport. "The most likely scenario would be to arrive on loan with an option to buy at the end of the season."
Serie A
Inter Milan have started the bidding at £26m for Real Madrid forward Kaka. A price that, quite frankly, Madrid would be foolish to turn down given how infrequently the Brazilian features these days.
Juventus midfielder Mohamed Sissoko is flattered by interest from Real Madrid but claims he is happy with the Turin side. "It's fantastic, but I still have two years on my contract at Juventus - a club I have great respect for," he told Marca.