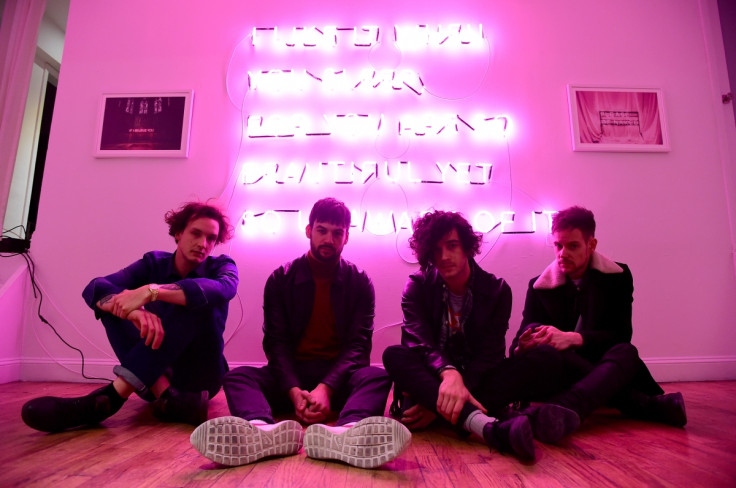 The 1975 are giving fans quite a Christmas present in December with the band announcing a headline show at London's O2 Arena. It will be the first time the British rockers, fronted by Matt Healy, will perform at the prestigious venue and tickets are expected to shift quickly.
Eager fans will be able to purchase presale tickets for the 16 December show from 9am on 8 June 2016 through O2 Priority. It is believed the general sale tickets will be released on 10 June although this has not been confirmed. Announcing the anticipated show, The 1975 said in a statement: "The show will form part of a series of concerts that will be toured worldwide, with expanded visuals and a brand new setlist, including songs that have never been played live. The 1975's constantly evolving performance will fuse art and technology to create a unique live experience."
Leading up to the London show, The 1975 will launch their North American tour on 12 June in Charlottesville, Virginia, before moving on to other locations including Raleigh and Dover, before returning to the UK for a string of festival performances at Glastonbury, T In The Park, Reading, Leeds and Wireless.
The group warmed-up their live performances earlier in 2016 with a string of shows across the UK including a consecutive five-night stint at London's O2 Academy Brixton in March. The 1975, which also consists of George Daniel, Adam Hann and Ross MacDonald, released their second studio album, I Like It When You Sleep For You Are So Beautiful Yet So Unaware Of It, in February.
The album marked a momentous chapter in the band's career as it reached number one both in the UK and on the US' Billboard 200 chart. Impressively, the band achieved the unthinkable by ending Adele's reign in the US with her bestselling third album, 25. Following on from their self-titled 2013 debut album, I Like It When You Sleep features the singles Love Me, Somebody Else and The Sound.
Discussing the inspiration behind the album, Healy told Rolling Stone: "We had gone from an unknown band to known about so we were being objectified and known about. We were kind of fearful of certain things, and we made the decision that the only thing that was going to remedy that was to make a record that was just about the truth and not about what we thought we should be saying. Because of that, I just decided early on that that was the name of the album for no other reason besides that I really liked it."