The 1975 frontman Matt Healy wants to sue the government. In a Twitter rant, the British singer accuses Prime Minister David Cameron of copying the artwork from the band's second album, I Like It When You Sleep For You Are So Beautiful Yet So Unaware Of It, for an EU Referendum promotional video.
According to Healy, 27, elements of the government video explaining how UK residents can vote in the upcoming Brexit debate bears striking similarities to the cover of the album. After watching the video which was released on 16 May, Healy asked his Twitter followers: "How do you sue the Government??"
In other tweets which he has now deleted "for fear of getting assassinated", Healy continued: "Oi @David_Cameron come up with your own visual identity you toff prat. You should know better even if you are a MASSIVE Tory. You can't imbue my identity as an artist with something as divisive as The @eureferendum it's totally totally taking the p**s @AcademiyFilms." He reportedly added: "Being White and middle class I have never felt truly f****d over by the British Government: Until now."
Weighing into the argument, The 1975's manager revealed that Nadia Marquard directed the EU Referendum video as well as the band's Settle Down visuals in 2014. Trying to lighten the situation, Healy joked that his comments were simply a publicity stunt for a song he and Cameron have recorded titled If I Believe In EU."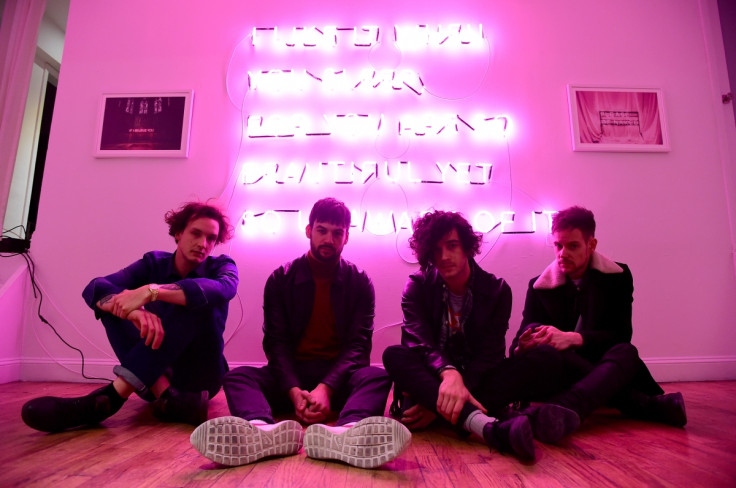 The I Like It When You Sleep cover features the album title in neon lights and the EU Referendum video features a similar sign with: "The 2016 EU Referendum Voting Guide" also in a bright pink hue. Sharing Healy's opinion on the similarities, one Twitter user commented: "the eu referendum campaign have fully ripped of the 1975 like how did they think this would play out I'm genuinely confused ?" while another agreed: "Wow EU Referendum maybe @ @the1975 next time you rip off their entire album campaign."
However, the Electoral Commission has told the BBC that its design was inspired by a campaign for the Scottish Referendum it ran in 2014. The 1975, which also consists of George Daniel, Adam Hann and Ross MacDonald, released I Like It When You Sleep in February 2016 and scored their first Billboard 200 number with the record.
Watch the EU Referendum voting video: