2 Broke Girls' Season 4 premiere episode will mark the return of Max and Caroline as the cupcake entrepreneurs who are still broke but trying to survive.
Episode one of the CBS sitcom is titled And The Reality Problem and will focus on the girls dealing with a reality TV series filming at their cupcake shop.
Click here to watch the episode live stream online.
Kat Dennings and Beth Behrs' characters will be approached by a TV producer for Keeping Up With The Kardashians as Kim Kardashian will stop by their cupcake window in Williamsburg, Brooklyn.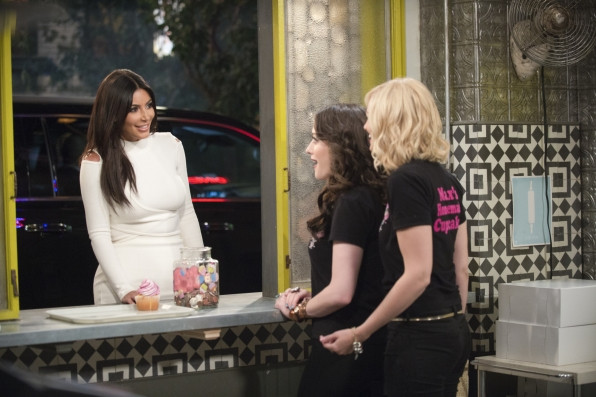 The synopsis of the premiere episode reads: "A reality show producer approaches Max and Caroline about shooting an episode of Keeping Up With The Kardashians at their cupcake window... Kim Kardashian West appears as herself."
Kat Dennings (Max) described Kanye West's wife as a sweet person on the 2 Broke Girls set.
"I didn't know what to expect because she is so famous. I was very nervous...But she was very sweet, she was very nice and her a** is amazing!"she told Pop Stop TV.
Watch the interesting journey of Max and Caroline as they meet the reality super star on 2 Broke Girls Season 4 premiere episode on 27 October.
The premiere episode is directed by Don Scardino and written by Michael Patrick King. Morgan Krantz (Raggedy Hipster/Hip Mugger) and Lauren Weedman (Shayne) will also guest star in And The Reality Problem.