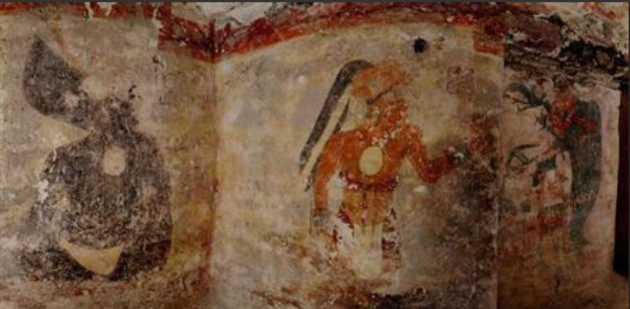 A small Mayan chamber having walls painted with the only known Maya murals and an oldest known Maya calendar found in the Maya ruins of Xultun in Guatemala debunks 21 December 2012 doomsday myth, according to archaeologists.
"The paintings we have here — we've never found them anyplace else," Mayanist scholar William Saturno at Boston University who led the excavation, was quoted as saying by National Geographic News.
The small room, dating to the early 9th century CE, at Xultun ruins is thought to have been the workplace of calendar priests and Maya scribes, as many of the glyphs on the walls pertain to calendar calculations.
At least two glyphs are in tabular form and represent movement of the Moon, and perhaps Mars and Venus, the archaeologists said in their report published in the 11 May issue of the journal Science.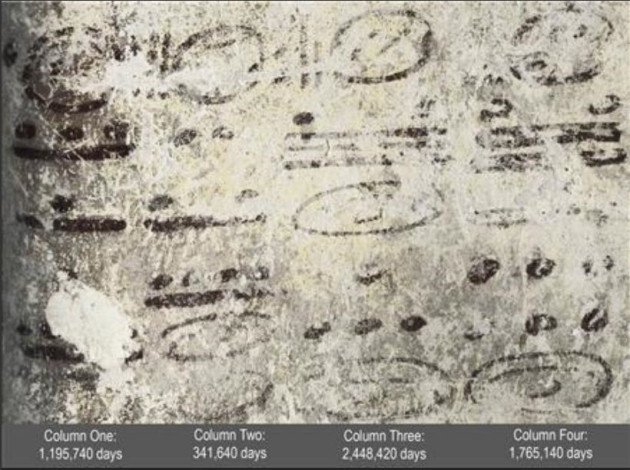 The archaeologists, who excavated the site in 2011, said that the scribe's notes about the Maya lunar calendar could be the first known records by an official chronicler of the ancient Maya civilization, Reuters reported.
They added that the dates on the calendar suggest some 7,000 years in the future, contradicting the popular notion that Maya predicted the end of the world in December 2012.
"We keep looking for endings. The Maya were looking for a guarantee that nothing would change. It's an entirely different mindset," Saturno said.
The excavation and preservation of the site, which was supported by the National Geographic Society, also revealed several male figures on the walls and the ceiling and some never-before-seen artworks whose meanings remain unclear to archaeologists.
Some of the interesting paintings discovered on the Mayan chamber's walls include three male figures in black sitting and looking in one direction. The men are wearing white loincloths and a particular head dress which Saturno said was not seen before anywhere.
Then there is a seated king wearing blue feathers and a prominent male figure painted in orange kneeling in front of the king. This man has been labelled as "Younger Brother Obsidian" and may have been the scribe of Maya's thriving town of Xultun in the 9th century A.D, he added.