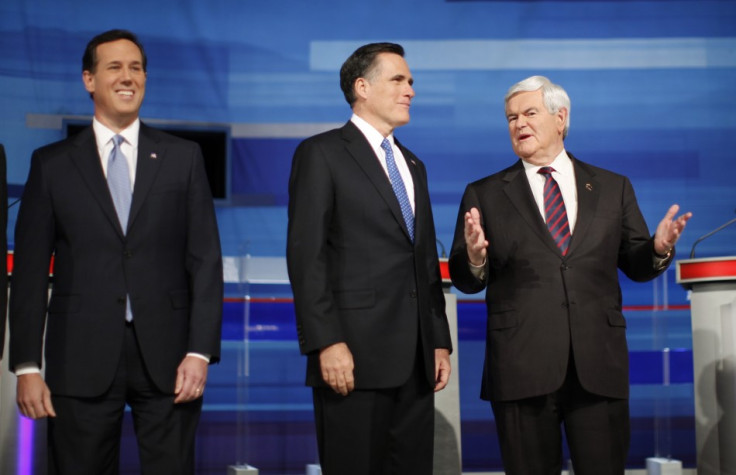 Rick Santorum and Newt Gingrich, the two closest rival GOP candidates to Republican presidential frontrunner Mitt Romney, hope to meet the former Massachusetts governor in a "one-on-one" contest by the time the primary campaign heads to Florida on 31 January.
Charles Mahtesian, national editor of the online publication Politico, told International Business Times UK: "If Santorum can come second [in South Carolina], then he will look to make the contest a one-on-one battle with Romney. If this happens, he can certainly make a contest of it."
Former congressman Santorum, who enjoyed a huge bounce of support in Iowa, narrowly losing by eight votes, hopes to repeat the shock result in South Carolina.
This does not figure in the plans of former house speaker Newt Gingrich, who enjoyed a surge in opinion polls which has left him clinging to hope that the battle in Florida will come down to a duel.
Following his endorsement by former vice-presidential candidate Sarah Palin, Gingrich brushed off claims that ex-wife Marianna would deliver a "bombshell" interview with ABC News.
Tom Jensen, director of Public Policy Polling, said the firm's latest poll showed a clear momentum towards Gingrich. "Santorum's collapsed and his people are going to Newt," he said. "Gingrich and Romney are basically running even on the first night of our South Carolina poll. No one else is close."
Race for the White House
There has been concern that the Republican race for the White House has scarred the candidates to such an extent that whichever nominee faces Barack Obama in the autumn will have lost a lot of credibility.
Mahtesian disagreed. "Primaries are like this," he said. "The conservatives are fractured but if they can gather behind their chosen candidate then they will be fine.
"This will be one of the closest races in the history of American elections.
"This is a very tight race. There's a decent chance that no one will get above the 60 percent mark in any state. This one will go right down to the wire."